Yippee – it's now officially summer time, which means only one thing – alcoholic ice lollies have landed BACK in stores! And we couldn't be happier about the situation…
Whoever came up the idea of combining ice lollies and alcohol – well, we'd like to give you a pat on the back, because we can't imagine any summer without them now.
Tasty, refreshing and, ahem, alcoholic , they're the perfect addition to warm summer's night. We might not be able to rely on the great British summer, but these lollies are certain to be a crowd pleaser… whatever the weather!
So where can you get the best of the best boozy lollies – and how much for?
Sainsburys
Set to transform our summer BBQs, Sainsburys have announced that they will be launching their very own version of the frozen treats just in time for the warmer weather.

The supermarket will be bringing out two boozy flavours – raspberry bellini, and of course, the classic gin and tonic. We're practically salivating already…
Like most alcoholly lollies on the market, the Sainsburys offering is pretty high in booze – with a 4.5% ABV. 4.5% ABV is roughly the same alcohol content as a beer. So if you're treating yourselves to one of these lollies this summer, make sure to be careful not to get behind the wheel of a car after eating.

Sainsbury's alcoholic ice lollies will be available in packs of four, for an absolute steal of a price at £4.50. They're available in stores NOW – so you better hurry if you want some for yourself!
Aldi
Aldi have also re-released their boozy ice pops, which were a sell-out success when they first released them last year.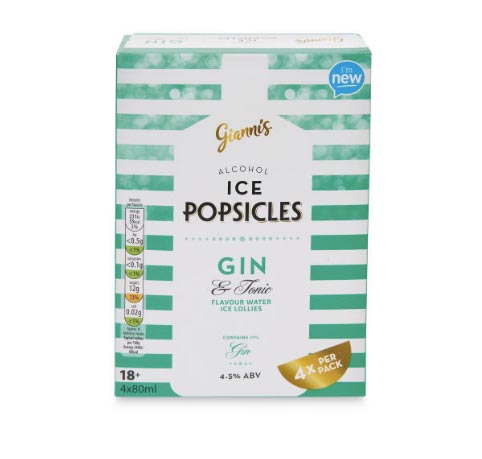 Customers went crazy for the creations – and if we're honest, who can blame them?!
The budget store have brough out their tasty frozen treats in four flavours, including two new ones. Treat yourself to two of last year's boozy flavours – zingy gin & tonic, or sweet prosecco & peach. Or, if you fancy trying something new, there's now also a Champagne & Orange Buck's Fizz, and a Cosmopolitan. YUM!
---
Read more…
---
The Gianni's alcoholic ice popsicles are available for just £2.99 for a pack of four as well, meaning this delicious sweet treat won't break the bank.
However, customers are warned that the Aldi ice lollies are also more boozy than you may think. Most are 4.5% ABV, while the Cosmo flavour is 4.7% ABV.

Fortnum and Mason
But the novelty ice lollies aren't only available in your local stores. Fortnum and Mason also offer a range of alcoholic popsicles at a rather hefty £50 for a ten pack!
Waitrose
And while we're on the subject of boozy lollies, these champagne popsicles are certainly worth a mention. Pops Ice Popsicals originated in Australia, but they're now available in the UK. Waitrose are stocking the popular ice lollies, and Classic Champagne has to be our favourite flavour. You can find out more and order them here.
Want to make your own gin & tonic ice lollies, with a cucumber twist? Here's how you can create your own…
Plus if you adore gin you should find out what the best gin for gin and tonic is!
Ingredients
750ml tonic (left to go flat)
75ml gin
1/4 lemon, juiced
1/2 lime, juiced
½ cucumber, sliced
Ice lolly moulds
Method
Mix all of the ingredients together (except the cucumber).
Put four slices of cucumber in each mould.
Then pour in the gin and tonic, mix and leave it to set in the freezer overnight.
Enjoy!
Have you tried these at home? Send your pics on social – @womanmagazine!