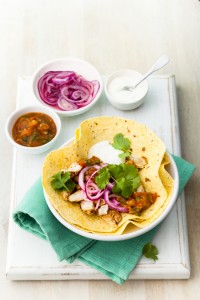 Squeeze lime juice over thinly sliced red onions for a lovely new side dish to serve alongside these mouthwatering main-meal fajita wraps.

 

SERVES – 4

PREP – 5 MINS

COOK – 10 MINS

 

1 red onion, thinly sliced

Juice of 1 lime

400g mini chicken fillets

2tbsp piri-piri marinade (we used Nandos)

2tbsp olive oil

8 soft corn tortillas

200g pot tomato salsa

150ml soured cream

Small bundle coriander leaves

 

1. Put the sliced onion into a little dish, sprinkle with a pinch of salt and squeeze over the lime juice. Set aside.

2. Season the chicken fillets to taste and toss into the marinade. Heat the olive oil in a frying pan, add the chicken and pan-fry gently for 10-15 mins, turning over as needed.

3. Heat the tortillas in the microwave according to the packet's instructions.

4. Slice up the chicken and pile on to the warm tortillas, then top with the tomato salsa, soured cream, a few of the sliced onions and some coriander leaves.

 

Per serving: 600 calories, 22g fat (9g saturated), 58g carbohydrates

TIP: Do you want to use up some leftover met from your Sunday roast? Cut cooked beef, pork or chicken into chunks, toss in the marinade and pan-fry for a few mins until piping hot.