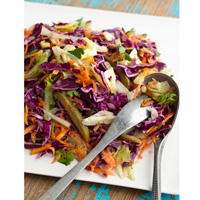 Dallas style Burger

Pork and beef are a great budget option – when you're making your own burgers. Make double and freeze some for another time to save you time.

Just £4.41

SERVES 4 + extra 4 burgers  PREP 15 MINS

COOK 15 MINS

SERVES 8 PREP 15 MINS

COOK 15 MINS

1kg pork and beef mince

1 small onion, grated

2 garlic cloves, crushed

2tsp mustard

1tbsp Worcestershire sauce

2tsp vegetable oil

1 carrot, grated

1/8th red cabbage, shredded

4 burger baps

4tbsp mayonnaise

1 large tomato

1/8th iceberg lettuce, shredded

2 gherkins, sliced

4tbsp barbecue sauce

1 Put the mince, onion, garlic, mustard and Worcestershire sauce together in a bowl, season generously and mix well together. Use wet hands to shape into 8 burgers. Season burgers generously with salt and ground black pepper, brush with oil and grill for 15 mins, turning as needed.

2 Lightly toast burger baps. Spread with mayonnaise, top each bap with tomato and lettuce.

3 Layer on the burgers, then sprinkle over some grated carrots and red cabbage. Finish with gherkins.

4 Spread barbecue sauce on the other bap lids and use to top.

Per serving: 662 cals, 33g fat (9g saturated) 48g carbs

Smart idea

The burgers freeze well! Freeze some for another time. Place sheets of baking paper between burgers and put into a sealable container.

 

SAVE MONEY!

MAKE MORE OF YOUR LEFTOVERS

Make the most of your veg at the bottom of the fridge and mix up a big bowl of coleslaw for the weekend



VITALITY COLESLAW

Just  £1.32

Mix together ¼ shredded red cabbage, 2 grated carrots, ¼ shredded iceberg lettuce, 4 sliced gherkins, 2 chopped celery sticks and 3tbsp roughly chopped parsley leaves. Season and mix together with  3tbsp French dressing.  Great with chicken drumsticks, or ham and chips.