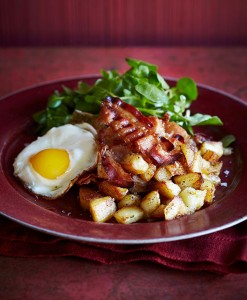 It's easy to knock up wholesome home-cooked meals when you're in a hurry. Using just 4 ingredients and ready in just 15 minutes, this pancetta hash potatoes with eggs is a great flash in the pan dinner.

READY IN 15 MINUTE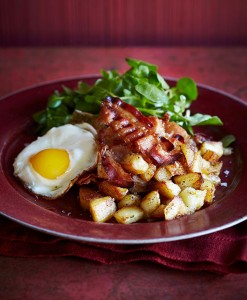 S – SERVES 2

(Making dinner for one? Simply divide the ingredients below in half)

3tbsp olive oil

500g potatoes, cubed

70g pancetta

2 eggs

2 handfuls watercress

 

 

 

 

 

1 Heat 2tbsp oil in a large non-stick frying pan. Add the cubed potatoes and season generously and pan fry for 10 mins until crisp and golden.

2 Push the potatoes to the side of the pan, add the pancetta and fry for a few mins to crisp up.

3 Meanwhile, heat the remaining 1tbsp oil in another frying pan, crack in eggs and cook for a few mins.

4 Serve the crispy potatoes, pancetta and eggs with a handful of watercress.

Per serving: 525 cals, 32g fat (7g saturated), 40g carbs

MONEY SAVER: Use streaky bacon instead of pancetta.