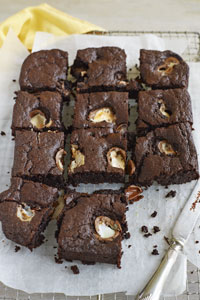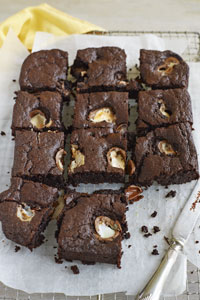 Here's an easy treat the whole family will clamber for this Easter!
SERVES – 12
PREP – 15 MINS
COOK – 50 MINS
250g unsalted butter
200g dark chocolate, broken up
80g cocoa powder, sifted
65g plain flour, sifted
1tsp baking powder
375g golden caster sugar
4 large free-range eggs
6 mini Crème Eggs, halved
6 Crème Eggs, halved
1. Heat the oven to 160°C fan. Grease and line a 24 x 30cm roasting tin. Melt the butter and chocolate in a heatproof bowl over a pan of simmering water, and once melted allow to cool.
2. Put cocoa, flour, baking powder and sugar in a large mixing bowl.
3. Beta the eggs into the chocolate and butter mixture and pour into the dry ingredients. Stir in the mini eggs and combine.
4. Pour the brownie mixture into the prepared roasting tin. Loosely cover and bake for 20 mins. Arrange the Crème Eggs all over the top, loosely cover and bake for 30 more mins until springy to the touch. Cool before cutting.
Per serving: 534 cals, 30g fat (16g saturated), 63g carbs