This good-for-you courgetti recipe is from  Deborah Durrant, an amazing raw food chef and teacher who specialises in healthy food that still tastes amazing! This is one to impress your friends with!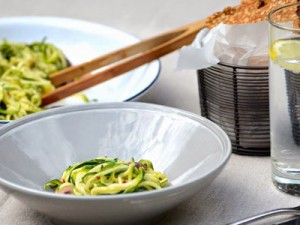 Ingredients
3 large courgettes
¼ tsp plus 1 pinch salt
3 tbsp extra virgin olive oil
1 tbsp lemon juice
¼ tsp lemon zest
1 tbsp fresh coriander, finely chopped
1 tsp chilli, finely chopped
1 twist of black pepper
65g (1/2 cup) pitted olives

What to do: 
Push the courgettes through the spiraliser, choosing the blade for the thinnest noodles.

Place the courgette spaghetti in a bowl, sprinkle with ¼ tsp salt and leave for 15 minutes for the courgettes to become softer. When the courgettes have released their juices, they will become soft like cooked pasta. Rinse well under cold running water to remove the salt. Pat dry.

Make the marinade by whisking together olive oil, lemon juice, chopped coriander, chilli and black pepper with a pinch of salt until well combined. Alternatively, you can shake the ingredients together in a jam jar.

Pour the marinade over the courgette spaghetti, mix in the olives and leave for 10 minutes for it to absorb all the flavours. Add the olives to serve.
Recipe is from deliciously-raw.co.uk and photos by Dawn Langley