A simple twist on banoffee pie with a coffee sponge base topped with ready-made thick caramel, sliced bananas and a rich creamy topping – it's a real crowd pleaser.

SERVES 10 PREP 25 MINS COOK 15 MINS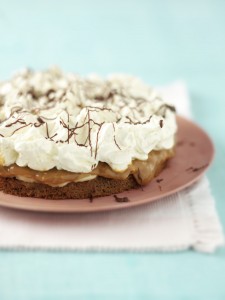 FOR THE COFFEE SPONGE

60g butter, softened

60g golden caster sugar

2tbsp instant coffee granules, dissolved in 1tbsp boiling water

1 medium egg

60g self-raising flour

FOR THE FILLING

2tbsp coffee liqueur (such as Kalhua or Tia Maria)

2 bananas, sliced

juice of ½ lemon

397g can caramel (we used Nestlé)

FOR THE TOPPING

300ml double cream

200g mascarpone

1tsp vanilla extract or vanilla bean paste

1tbsp golden caster sugar

60g milk chocolate, broken into squares

 

1 Heat the oven to 190C, Gas 5. Grease a 20cm diameter loose-based sandwich tin and line the base with baking parchment. To make the sponge, put the butter, sugar, dissolved coffee, egg and self-raising flour into a food processor and blend until soft and smooth. Spoon into the prepared tin and level the surface. Bake for 15 mins until springy to the touch. Cool in the tin.

2 Run a knife around the edge of the sponge to loosen it, but keep it in the tin. For the filling, drizzle the coffee liqueur over the sponge. Toss the banana slices with the lemon juice and arrange over the sponge. Spread the caramel over the top.

3 For the topping, softly whip the cream, stir in the mascarpone, vanilla and sugar and spoon or pipe over the caramel.

4 Melt the chocolate in the microwave for 30 seconds, on High. Drizzle the melted chocolate over the cream. Chill until ready to serve, then remove from the tin.

Per serving: 572 cals, 40g fat (25g saturated)

 Click here for more recipes

Try another dessert, Slimline Tiramisu – ready in 20mins

Why not attempt another banoffee recipe? Banoffee baked Alaska.