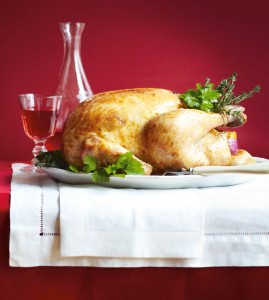 Seasoned with lemon, orange and herbs and cooked enclosed in buttery foil to seal in the flavour, it tastes simply fantastic. Choose the best turkey you can afford. Kelly Bronze turkeys are expensive, but they have delicious firm meat because they mature over several months, wander freely and are hung to develop their flavour.


PREP 30 MINS – SERVES 16 – COOK 3 hours 45 mins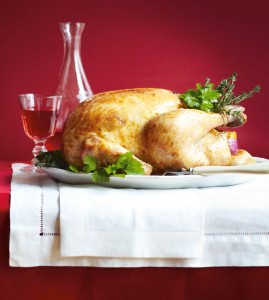 For the stuffing:

4tbsp olive oil

2 onions, chopped

3 garlic cloves, crushed

175g white breadcrumbs

100g pistachios, chopped

Finely grated zest of 2 lemons and juice of 1

4tbsp each parsley and sage chopped

100g dried apricots, chopped

2 eggs, lightly beaten

 

For the turkey:

6.3kg free range turkey

2 red onions, cut into wedges

1 lemon, cut into wedges,

1 orange, cut into wedges

Few sprigs thyme, sage and parsley

75g butter

1 To make the stuffing, heat the oil, fry onion and garlic for 10 mins, to soften, not brown. Tip into a bowl, then add the breadcrumbs, pistchaios, lemon zest and juice, parsley, sage, apricots and seasoning. Stir to combine. Divide into 2 plastic bags and freeze.

2 Lift up the loose skin at the fat end of the turkey and spoon in half of the stuffing. Turn the turkey over onto the breast, lift the neck flap up and over the stuffing to cover and secure with a skewer.

3 Tuck the onion, lemon and orange wedges and some of the herbs into the turkey cavity.

4 Line a large roasting tin with 2 large pieces of foil. Sit the turkey on the foil, season generously, dot with butter and wrap tightly in the foil. (you can leave turkey in fridge overnight at this stage) Weigh stuffed turkey and calculate cooking time – roast for 15 mins for each 450g plus 15 mins.

5 Heat oven to 200C, Gas 6. Roast according to weight – for this size turkey it's 3 hours 45 mins. Unwrap foil for final 30 mins of cooking time.

6 Leave turkey to rest out of the oven, wrapped in foil for at least 30 mins – though 1 hour is fine if you need the oven space.

PER SERVING: 410 CALS, 17g FAT (6g SATURATED), 11g CARBs

Food Ed's tip: Make and freeze stuffing in advance. Defrost overnight in fridge. Cook remaining stuffing in a small tin drizzled with olive oil in a hot oven for 20 mins.