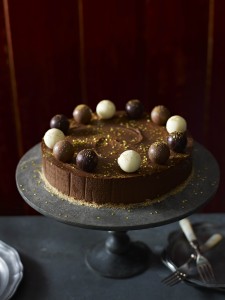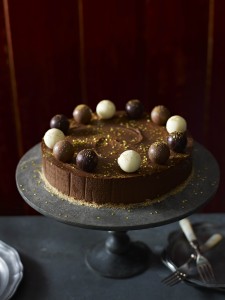 Just a handful of ingredients make this yummy chocolate treat…
SERVES 16 PREP 15 mins (plus chilling)
COOK 10 mins
450g dark chocolate (Bournville is perfect)
5tbsp liquid glucose
5tbsp Disarrano liqueur
75g amaretti biscuits
600ml double cream
337g packet assorted truffles (we used Lindt Lindor)
gold metallic luster dust (www.squires-shop.com)
1 Grease and line a 23cm loose-based cake tin. Break the chocolate into squares and put into a heatproof bowl with the liquid glucose, resting over a pan of simmering water, leave until it has melted.
2 Crumble the amaretti biscuits over the base of the prepared tin.
3 Whip the cream until it is softly peaking. Stir the melted chocolate mixture together, then stir in the cream until evenly mixed. Pour into the prepared tin.
Pop in the freezer to firm up for 2 hours or chill in the fridge for 6 hours.
4 Carefully ease the chocolate torte out of the tin, onto a cake stand. Arrange the chocolate truffles on top and sprinkle with the gold metallic luster.
495 calories, 36g fat (21g saturated), 32g carbohydrate