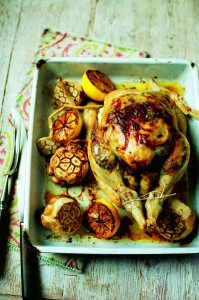 We love this French style roas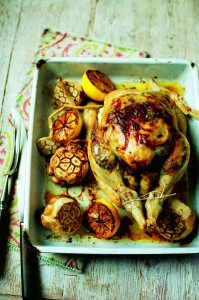 t chicken with garlic and wine.  Cook in a large flameproof casserole or cover tightly with foil to keep it deliciously moist. Uncover for the final 15 mins to crisp up the top.
SERVES 4 – PREP 10 MINS – COOK 1 hour 35mins
2 lemons
50g butter, at room temperature
few thyme sprigs
2 whole garlic bulbs, cut in half horizontally
1.5kg cornfed chicken
300ml white wine
1tbsp chicken seasoning (we like Barts)
1 Finely grate the zest of 1 lemon, halve this lemon and slice the other one.
2 Put most of the butter into a bowl, season with salt and ground black pepper, add the lemon zest and 2tsp thyme leaves. Mix together.
3 Pop a few lemon slices into the chicken cavity with half a garlic bulb and a few sprigs of thyme.
4 Slide your fingers between the skin and the breast , spread the herb butter over the flesh. Slide in a couple of lemon slices too. Replace the skin flap and secure under the chicken with a wooden skewer.
5 Put the lemon and garlic halves into a large flameproof casserole with the wine.  Add the chicken and sprinkle on the chicken seasoning. Dot over the reserved butter.
6 Cover with a lid or foil and roast for 1 hour 20 mins. Remove lid and roast for 15 more mins to lightly brown.
Per serving: 470cals, 21g fat, (11g saturated), 5g carbs.
TRY IT: Why not serve these with a mixture of roasted parsnips, sweet potatoes and regular potatoes, sprinkled with rosemary whilst roasting.