Everyone's  talking about courgetti and who can blame them when you can use it to make delicious filling meals like these –  it's no wonder people are turning a courgette into courgetti and ditching the spaghetti! It's the easiest way to go low carb that we know of yet it still tastes good  – trust us we've tried it! Here are some delicious recipes to get you started…
The skinny bolognese recipe: turn your favourite comfort food into a diet friendly feast!

Get this delicious dinner recipe here 
The sweet potato curry recipe: curry has never been so healthy thanks to this mouth-watering must-try

See this healthy, tasty curry recipe here 
The courgetti fritters recipe: another way to spin the ever popular courgetti, these are the idea snack for everyone

Perfect for a party, see the recipe here
The Asian inspired raw recipe: this is one for those on the 5:2 as its lean and clean!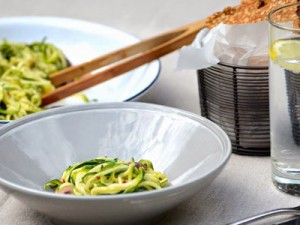 Tangy and tasty, see the recipe here
The vegetarian bolognese recipe: ditch the mean yet still feel full with this new recipe the family will love

Totally guilt free check out this yummy recipe here
See the latest vegetable cakes everyone's making here