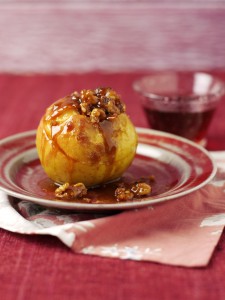 If you love sticky toffee puddng you'll love this slightly healthier version. These gorgeously sticky caramel walnut baked apples take very little effort and they're so delicious. Serve with 0% fat Greek yogurt for a light and luscious comfort pud.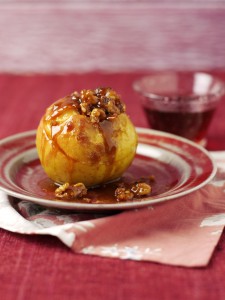 SERVES 4 PREP 5 MINS COOK 45-55 MINS

4 medium-sized cooking apples

8-10 stoned dates, chopped

4tbsp walnuts, chopped

4tbsp light muscovado sugar

4 knobs of butter

0% fat Greek yogurt, to serve

1 Heat the oven to 180C/Gas 4. Wash and core the apples and score a line in the skin around the middle of each one. Put the apples in a baking dish.

2 Mix together the dates, walnuts and sugar and spoon into the centre of each apple. Top each one with a knob of butter and bake in the oven for 45-55 mins until soft and starting to split. Serve warm with the caramel juices from the dish and yogurt.