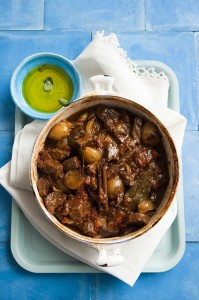 Bring some Mediterranean magic into your kitchen with these sunkissed dishes. This perfect no-fuss meaty dish is great to cook ahead and then reheat later.
SERVES 6-8
PREP 15 MINS (plus a few hours or overnight marinating)
COOK 2 HRS 30 MINS
2 sprigs rosemary
2 bay leaves
2tsp dried/2tbsp chopped fresh oregano
125ml red wine
2tbsp red wine vinegar
3 garlic cloves, crushed
3 cloves
1 cinnamon stick, broken in half
For the beef:
1kg chuck steak or braising steak
6tbsp light olive oil
500g shallots or baby onions, peeled
400g can chopped tomatoes
2tbsp tomato puree
1 beef stock pot
Orzo pasta, to serve
1. Combine the marinade ingredients in a bowl. Add the beef, cover and leave in the fridge for a few hours or overnight.
2. Heat oven to 180C, Gas 4. Heat 2tbsp oil in a flameproof casserole, add the shallots and fry for 7-10 mins until golden. Remove from the pan and set aside.
3. Drain the beef, reserving the marinade. Heat 2tbsp oil in the casserole, add half the beef and cook over a high heat to brown. Transfer the beef to a plate, add the remaining oil and brown the remaining beef. Return all the beef to the casserole.
4. Add the marinade, tomatoes, tomato puree, stock cube and 100ml water. Bring to the boil, season, cover and cook in the oven for 1 hour. Add the shallots and cook for further hour, stirring occasionally, until the beef is tender. Serve with orzo pasta.
Per serving: 390-292 cals, 21-16g fat (5.5-4g saturated), 9-7g carbs