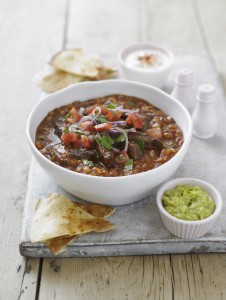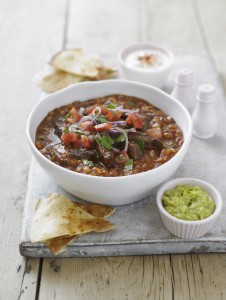 SERVES 4 -PREP 10 MINS -COOK  1 HR 30 MINS
2tbsp olive oil
1 large onion, chopped
600g cubed stewing beef
2 garlic cloves, crushed
1tsp chilli powder
 1tsp ground cumin
 1tsp ground coriander
 2 glasses red wine
400g cans chopped tomatoes
 1tbsp intense sundried tomato paste
1 beef stock cube
 400g can red kidney beans
 3tbsp coriander leaves, roughly chopped
 2 tomatoes, chopped
 1 small red onion, sliced
 Guacamole, soured cream and tortillas, to serve

1 Heat the oil in a pan and fry the onion for a few mins until softened. Add the beef and garlic, cooking quickly until browned.
2 Stir in the chilli, cumin and coriander, cook for 1 min then pour in the wine and boil for 2-3 mins.
3 Add the tomatoes, tomato paste and crumble in the stock cube. Add salt and pepper to taste.
4 Bring to a simmer, cover with a lid and cook over a low heat for about an hour, stirring occasionally until the mixture is thick.
5 Add the kidney beans and cook for 5 more mins. Serve each portion topped with coriander leaves, tomatoes and onions, with guacamole, soured cream and tortillas alongside.
Per serving: 381cals, 9.5g fat, (4g saturated). 24g carbs
Why not try our Mexican chicken pizza while watching the football?
Experiment with more Mexican food, Beef Buritos or Chicken fajitas
We also have a fab vegetarian chilli recipe