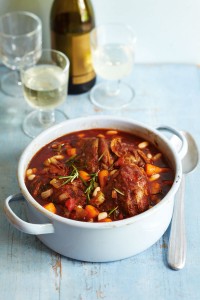 Fool everyone into believing that this richly flavoured casserole is drenched in wine – when the secret ingredient is a low price balsamic vinegar and some dried porcini mushrooms.
SERVES 4 – PREP 15 MINS – COOK 1 HOUR 30 MINS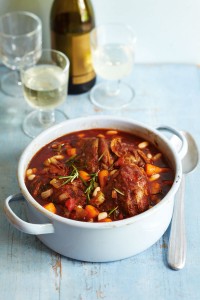 15g dried porcini dried mushrooms
4 small lamb shanks (Asda are the best value)
1tbsp poultry seasoning (we used Barts)
2tbsp olive oil
1 large onion, chopped
2 celery sticks, chopped
150ml balsamic vinegar
2 x 400g cans chopped tomatoes
500g baby chantenay carrots
2 x 400g can cans cannellini beans
1 Heat the oven to 180C, Gas 4. Put the dried mushrooms in a bowl and cover with 100ml boiling water to soften.
2 Sprinkle the lamb shanks with poultry seasoning, salt and ground black pepper. Heat the oil in a flameproof casserole, add lamb and brown for 10 mins, turning as needed. Add onion and celery and cook for 5 mins to soften.
3 Pour in vinegar, tomatoes and carrots, bring to the boil, cover. Oven cook for 1 hr 30 mins until meat and vegetables are tender. Serve with crusty bread.
Per serving: 625 cals, 24g fat (8g saturated), 47g carbs