The Hairy Dieters love risotto, so in their new book, Hairy Dieters Fast Food, they're bringing you a recipe that means you don't have to spend hours standing over a saucepan stirring to make their favourite dish!

Serves: 4
Calories per serving: 276
Ingredients:
1 tsp olive oil
5g butter
1 onion, finely chopped
2 garlic cloves, finely chopped
1 large courgette, diced
1 tsp lemon zest
150g Arborio risotto rice
75ml white wine
400ml chicken stock
100g peas
100g greens (chard, kale, spring greens)
25g Parmesan cheese, grated
flaked sea salt
freshly ground black pepper
Method:
Heat the olive oil and butter in the pressure cooker. Add the onion and cook it gently for 5 minutes, until it has started to soften, then add the garlic, courgette, lemon zest and rice. Continue to stir for a minute so the rice becomes well coated with the oil and butter.
Turn up the heat and pour the white wine into the pan. Allow it to bubble up for a minute or so until it has reduced, then pour in the chicken stock. Season with salt and pepper.
Click the pressure cooker lid into place and leave it over a high heat until it comes up to pressure. Turn the heat down and leave to cook at high pressure for exactly 5 minutes, then fast release. Put the pan over a low heat.
While the risotto is cooking, bring a kettle to the boil. Put the peas in a bowl and pour half the water over the peas to defrost them and pour the rest into a saucepan. Shred the greens and put them in the saucepan with the drained peas. Bring the water to the boil and cook the peas and greens for 2–3 minutes until they're cooked through but still a fresh green, then drain.
Add the peas and greens to the pressure cooker together with the grated Parmesan. Beat until the cheese has melted and the risotto is creamy. Serve immediately.
THE HAIRY DIETERS FAST FOOD by Si King and Dave Myers is published by Orion in May 2016; Trade paperback: £14.99, eBook: £7.99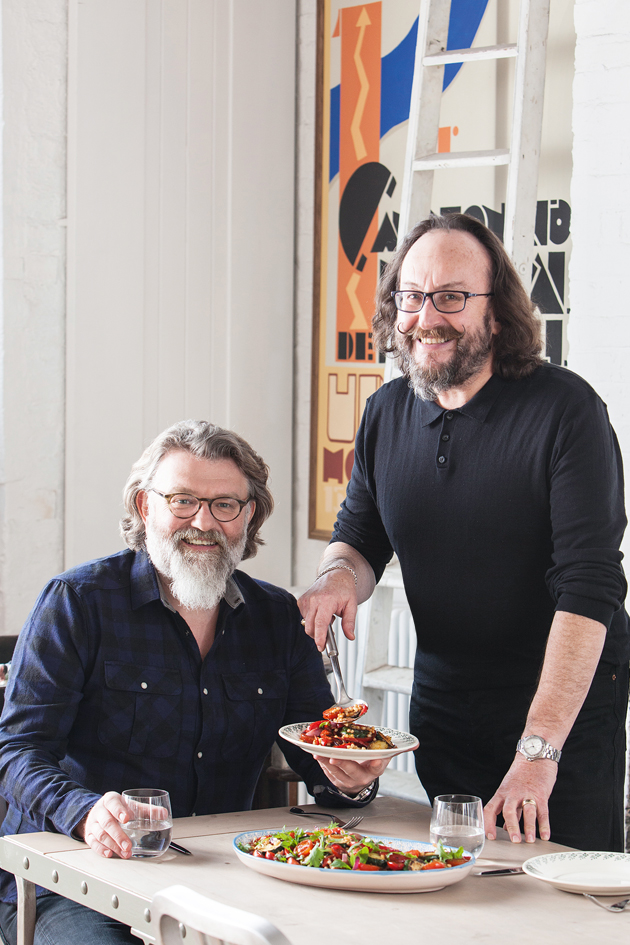 Those Hairy Dieters know a thing or two about filling and flavoursome meals with a slimming twist...