A quick and easy summer meal of pork medallions flavoured with lemon zest, mint and parlsey served with a superfood crunchy quinoa salad. Chicken breasts or salmon steaks can be used instead of pork.

SERVES 4 – PREP 10 MINS – COOK 20 MINS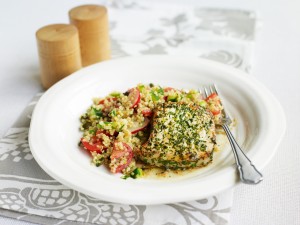 4 x 100g pork medallions or lean pork steaks

finely grated zest and juice of 1 lemon

½ small bunch fresh mint, finely chopped

½ small bunch fresh parsley, finely chopped

475ml hot vegetable stock

250g quinoa

3tbsp olive oil

150g radishes, chopped

400g cherry tomatoes, quartered

100g spring onions, sliced

300g cucumber, chopped

75g pitted green olives, sliced

3tbsp toasted pumpkin seeds

 

1 Flatten out the pork a little with a rolling pin. Mix together the lemon zest, mint and parsley and sprinkle 1tbsp of the mixture over the pork. Season and set aside.

2 Bring the stock to the boil, add the quinoa, cover and cook over a low heat for 15 mins, until the stock has been absorbed and the quinoa is tender. Spoon into a large bowl and cool for 5 mins.

3 While the quinoa is cooking, heat 1tbsp oil in a non-stick frying pan. Add the pork and cook for 3-4 mins each side until cooked through.

4 Stir the remaining herb mix into the quinoa with the lemon juice, remaining oil, radishes, tomatoes, spring onions, cucumber and olives. Sprinkle with pumpkin seeds and serve with the pork.