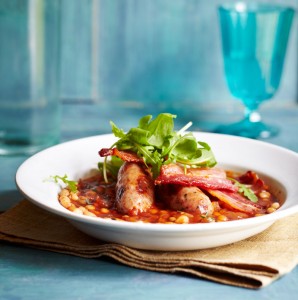 No need to reach for a ready meal next time you're in a rush – you really can make things from scratch in less than half-an-hour! Fancy a change from a can of your usual baked beans? This home made version has a lovely barbecue sauce flavour that complements the bangers so well!
READY IN 30 MINUTES- SERVES 4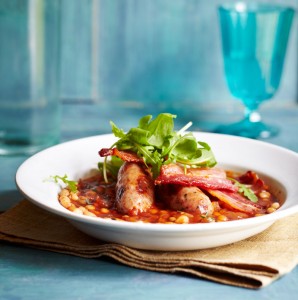 8 quality sausages
2tsp olive oil
1 onion, chopped
4tbsp tomato ketchup
1tbsp balsamic vinegar
1tbsp Worcestershire sauce
1tbsp runny honey
12 rashers streaky bacon
400g can haricot beans, drained
100g rocket
1 Heat the oven to 220C, Gas 7. Put the sausages onto some non-stick baking paper in a roasting tin. Cook for 25 mins.
2 Heat the oil in a large pan, add the onion and fry for 5 mins, to soften. Add the tomato ketchup, balsamic vinegar, Worcestershire sauce and 150ml water. Stir and simmer for 5 mins.
3 Put the bacon on a baking paper lined tray and cook in the oven for 10 mins until crispy.
4 Add the haricot beans to the tomato mixture and warm through. Serve in bowls, topped with the sausages, bacon and a handful of rocket leaves.
Nutritional info: 832 cals, 42g fat,(14g saturated), 59g carbs