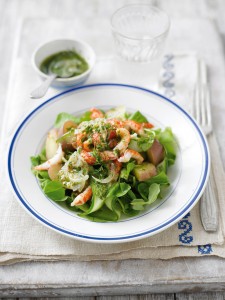 If you're not a lover of sweet and savoury combos – this Crayfish salad could be one to convert you!  A super quick and easy to make dinner.

SERVES 4 – PREP 10 MINS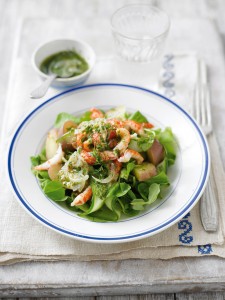 2 x 180g pots crayfish or prawns

2 ripe pears, sliced

½ cucumber, cut into strips

140g pack spinach, rocket and watercress salad

1tbsp dill sprigs

2 spring onions, trimmed

1tsp whole grain mustard

2tbsp olive oil

zest and juice of 1 lemon

1 tsp sugar

 

1 Combine the crayfish, pears and cucumber with the salad leaves and divide between 4 plates.

2 Put the dill, onion, mustard , olive oil, lemon zest and juice and sugar in a small processor. Whiz to combine.

3 Drizzle the dressing over the salad and whiz to combine. Serve with lots of crusty bread.

Per serving: 162 cals, 6g fat, (0.8g saturated), 10g carbs

Know How: A quarter of a chopped and deseeded melon would work well too, instead of the pears.  Not convinced? Then replace them with a handful of halved cherry tomatotes

Click here for more recipes

Try another salad, Melon, parma ham and feta salad

Why not try another prawn recipe?