Susanna Reid has come to the defence of Richard Madeley after he was criticised for his "creepy" comments to Good Morning Britain's weather girl.

The presenter – who has been filling in for Piers Morgan this week – came under fire from viewers on Wednesday when he joked that Lucy Verasamy should go outside in the rain to "test" whether her short denim dress would shrink.
Susanna, however, defended Richard during Thursday's show as she discussed the row with Lucy.
"Richard is under fire for teasing the weather girl," Susanna, 47, explained. "Lucy, you were wearing a denim dress and you were worried it might shrink [in the rain]."
Lucy – who had swapped the frock for a blouse and black trousers for Thursday's programme – replied: "Yes, denim is not good in the rain."

Susanna added that whilst she had advised Lucy not to venture out in case this happened, Richard, 61, had suggested she go outside to see if the dress would shrink.
Lucy suggested it was an innocent comment when she said: "That's because everyone wants to see the weather girl in the pouring rain, battling with a brolly."
And when Ben Shephard mentioned that Richard has always been a "consumer journalist" and would be interested in testing the product, Susanna agreed.
"Richard was just interested to see what happened to the fabric. It's an experiment, in the public interest," the mum-of-three argued.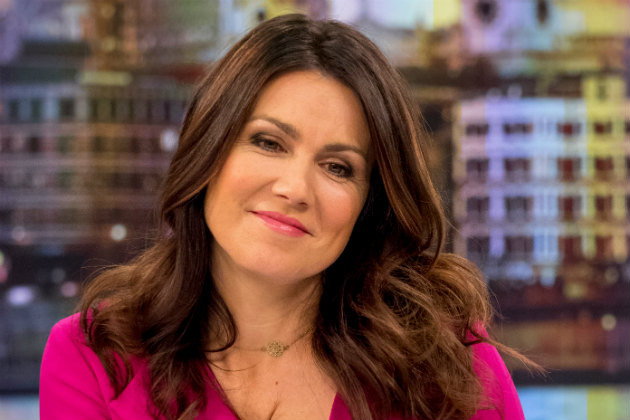 It comes after fans of the show called out Richard – who wasn't presenting on Thursday – for his remarks to Lucy on Wednesday's programme.
During the show the veteran presenter said of Lucy's outfit: "We are liking the denim look, Lucy, it's Dolly Parton!"
He then added after Lucy spoke of her fears about its durability in the rain: "I think you should pop outside at once and test it out!"
This led viewers to brand him "creepy", with one tweeting: "Richard Madeley is easier on the ear in the mornings on #GMB but less of the creepy comments please"
"I was stunned by his comments. Not appropriate," another wrote, whilst one said: "Richard Madeley making another cringey comment there to Lucy Versami uurggh #GMB"
Meanwhile Susanna announced on Thursday's show that she'll be taking a short break from GMB over the Easter holidays.