Stacey Solomon has hit back at accusations of child abuse following criticism of a photo she posted of her sons on Instagram.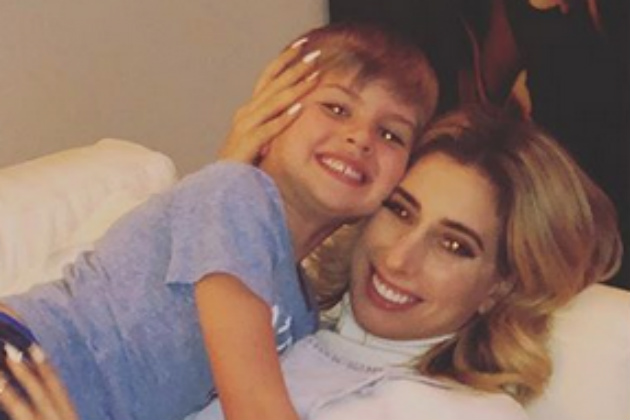 The devoted mum-of-two regularly posts images of her sons, Zachary, 10, and Leighton, 6, but one photo sparked a huge backlash against Stacey's parenting style.
In her latest Fabulous Magazine column, Stacey revealed she was accused of child abuse after posting a pic in which she bathed naked with her two sons.
The image, which was posted last year, shows Stacey and her children surrounded by bubbles in a bath tub while her youngest, Leighton, sprays her with a water gun.
The former X Factor star captioned the image: "Isn't being a mum just the best thing in the world. Even when they're shooting you in the face with their water pistols."
Although most of her followers found the pic endearing, some trolls took to the comment section to show their disgust at the image.
"A little irresponsible of you as a parent," one wrote, while another commented: "Free will, you're your own person, do as you please. Just at least don't act clueless when either one or both your kids get arrested for rape or incest."
Stacey wrote in response to the nasty comments: "I REGULARLY kiss my two boys on the lips, and at the grand old age of 10 and 6 they're not repulsed by it and pushing me away. And for that I'm eternally grateful.
"I get the utmost pleasure in life out of showing my children how much I adore the life out of them."
Speaking about the online abuse, Stacey added: "People couldn't bear the thought of me being my naked self in front of my naked children.
"'Wrong', 'disgusting' and 'child abuse' were just a few of the words used to describe something that I thought was completely normal."
After the Loose Women presenter questioned herself about the matter, she insisted that she had done nothing wrong and that she'd continue to share bath times with Zachary and Leighton.
"I've never ever felt uncomfortable about being naked in front of my children and visa versa how could I let people I don't even know change my whole outlook on my reality?" she said.
"If others can't get their head around that, then it's their problem," she insisted, before adding: "Bath time will remain the same until the boys decide otherwise."