She certainly wasn't expecting this reaction from her glam photo!
Amanda Holden might have wowed fans with her 'Jessica Rabbit' inspired gown for the Pride of Britain Awards last night, but eagle-eyed fans spotted something else in her photograph -and it wasn't her new red hair.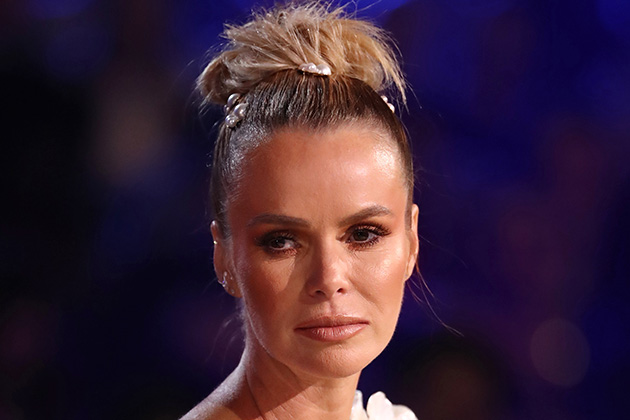 The 47-year-old star uploaded a gorgeous snap of herself stood outside her front door wearing a beautiful purple gown ahead of Pride of Britain awards, with the caption: "Looking forward to a great evening at the @prideofbritain awards. Rewearing my @zacposen dress in support of @ariannahuff 's #StyleRepeats! " 
But can you spot something freakily chilling in the background?
Well fans did and it begged them to ask, 'Obviously you look absolutely amazing… But is that you carved into a pumpkin?!?!?!?' another said: "Love!! Love the pumpkins too!" and a third said: "haha lovin' that pumpkin carving!"
Meanwhile other fans asked: "Have you died your hair? It looks really nice (sic)"  and with the dropping temperatures outside another fan expressed concern: "Looking bloody gorge (and a little chilly in this photo)" and a third pointed out: "Looks very Jessica rabbit".
It's no secret, Amanda is into her fitness which helps keep her slim figure. She often uploads snaps of herself during her morning runs.
And some fans are keen to know how she looks so good. One asked: "I want your body! How do you look like this after children?! Two years on and lots of work but I certainly don't 😂 @noholdenback"
Amanda is mum to daughters Hollie, six, and Alexa, 12 who she has with her music producer husband Chris Hughes and manages to juggle parenting with her busy work life.
She recently teamed up with Paddy McGuinness, Emma Willis and Rochelle Humes for an upcoming M&S food campaign which saw the team having fun and frolicking around backstage.
But with Amanda's latest pumpkin carving creation, there's no denying she looks a real treat!