Ruth Langsford is shifting the pounds to spice up her marriage.
At 58 years old, Ruth Langsford is looking better than ever. But despite taking part in Strictly last year, she didn't lose the weight she had hoped to – even admitting to 'thickening out'.
However, just three months on, Ruth is looking slimmer than ever. According to our well-placed source, her new body is down to her wanting to spice up her marriage to Eamonn Holmes.
Eamonn panned their sex life when he joked that she was 'good for nothing' during her time on Strictly, but now Ruth is keen to re-ignite the spark…

SPICING THINGS UP
With eight years of marriage under their belt, Ruth and Eamonn have successfully passed the 'seven year itch', but keeping the spark alive has always been important to
Last year, they hosted Eamonn & Ruth's 7 Year Itch, where they explored ways of spicing up marriages – including alternate sex therapy sessions and a visit to a bondage dungeon.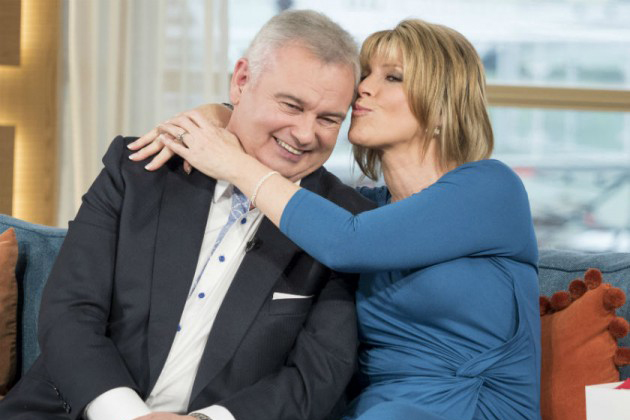 Giving an insight into their sex life, Eamon said previously, 'You create a mood as the evening goes on. The fire is burning, the wine is flowing, the music is playing,' to which Ruth chuckled, 'You're slipping into a silk kimono at this point.'
Ruth has admitted that the menopause had a 'huge effect' on her weight – and saw her dress size shoot up from a 12 to a 14. And Eamonn, 58, regularly pokes fun at her – often to an average of 1.2 million viewers on This Morning – so it's no wonder Ruth has got a weight complex.
Before she joined the Strictly line-up, Eamon joked, I think you're going to have to change your policy because you have a lot of weight to lose for Strictly.'
WORKING UP A SWEAT
While her demanding TV schedule doesn't leave much spare time, Ruth exclusively told Woman she's been 'forcing herself' to work out as much as possible.

Although the presenter toned up during her time on Strictly, she was one of the few contestants that didn't shed the pounds dramatically.
'One week I think, "I'm going to do my steps and not drink, and I might lose a couple of pounds," but then it goes back on again,' she explained.
Ruth has admitted she finds it difficult to make time for exercise, saying, 'When I get home at 7pm it's the last thing I want to do, but I force myself.'
Eamonn even revealed that Ruth has enlisted the help of a personal trainer, Frank Sinclair, to help shift pounds. Something our source tells us
is 'going a long way to spice up their love life', adding, 'Ruth feels sexy and wants to be attractive to Eamonn, what wife doesn't?'
BARING ALL
Ruth took her mission to get fit for Eamonn one step further and immersed herself in the new naked exercise craze, as part of her new TV show, Do The Right Thing.
She explained, 'The theory is very interesting; if you can see yourself naked you would focus on the bits that need more work.'
While the theory might be there, Ruth said following through with it was an intimidating experience. 'I just think of sweaty exercise bike seats,' she admitted. 'I felt nervous because you don't know where to look. I had wet wipes. I would change in the changing room, but I'm not one of those people who dries their hair in just their pants, giving it all that.'
We don't blame you!