Ruth Langsford has shared some touching words for husband Eamonn Holmes as he prepares to collect his OBE from Buckingham Palace.
The couple posed for a sweet picture together on Friday ahead of the big event and Ruth spoke of how proud she is of Eamonn for receiving the award.

"Off to the Palace!" an excited Ruth, 58, captioned the post on social media.
"SO proud of my husband @eamonnholmes who will receive his OBE for services to broadcasting today….nobody deserves it more ❤ #proudwife #obe #eamonnholmes"
Awww. The This Morning duo were certainly looking dapper for the occasion, with Ruth wearing a pretty sky blue dress and matching hat whilst Eamonn, 58, had donned a smart suit.
Later on Ruth gave an update as she and Eamonn arrived at the palace and they couldn't help but get into the royal spirit by practising their wave.
The TV star also proved that the family are out in force to support Eamonn when she shared a picture of him posing with his daughter Rebecca in police hats.
"'Ello 'Ello….what's going on here then? @eamonnholmes & his beautiful daughter @rebecca_leonora off to collect his OBE! #buckinghampalace #obe," Ruth told her followers.
Meanwhile Eamonn seemed a tad nervous before heading off to collect his accolade from the Queen.
"Wish me luck. #OBE Day. Let's hope it doesn't rain on my Parade," the presenter tweeted.
It was announced earlier this year that Eamonn would be awarded the Officer of the Most Excellent of the British Empire prize in recognition of his services to broadcasting.
However, he confessed shortly after the news was revealed that there was a chance Ruth may not be able to attend his big day.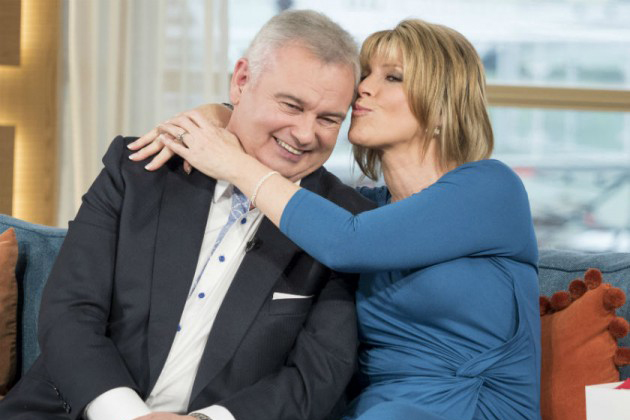 "My daughter loves the royals so I'd like her to be there. My son Jack wanted to be there too," Eamonn explained on Good Morning Britain in January. "So Ruth might have to stand aside – and she would do that.
"If we had three tickets that would settle it, but really we need about 17!"
Congratulations to Eamonn on collecting your award!