Ruth Langsford and Eamonn Holmes definitely aren't afraid of tackling controversial subjects live on air. The presenters are seasoned professionals when it comes to handling sensitive or divisive topics on TV, however the pair found themselves in the middle of a heated debate on 'This Morning' this week over whether women should be allowed to sunbathe topless in public.
The debate was started on popular parenting site Mumsnet after one mother criticized another for removing her bikini top to sunbathe at a family resort. The comment began what soon became a fiery debate on the subject.
During 'This Morning' journalists Sonia Poulton and Shona Sibary appeared on the sofa to discuss their points of view on the matter with Ruth and Eamonn. While Sonia couldn't understand what all of the fuss is about, Shona condemned the act as sexual, disrespectful and selfish.
Despite Sonia branding the view "archaic" and "out dated", Ruth and Eamonn couldn't help but side with Shona, agreeing that breasts "are considered a sexual part of a women's body."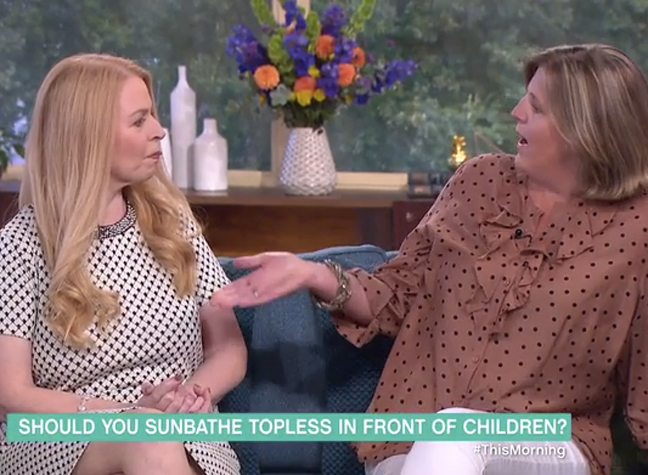 (The This Morning topless sunbathing debate gets heated)
Ruth weighed in on the debate saying: "I have no problem with women sunbathing topless. But, if you're in an enclosed space in a family resort with couples and children, men cannot help looking at women's naked breasts.
"If I was sunbathing and a woman was sunbathing topless very close to my family, Eamonn would either be feeling very awkward or trying to look away from her, or if he was looking, I would have an issue with it."
The couple had to interrupt the heated debate on many occasions as voices became raised and tensions rose in the studio.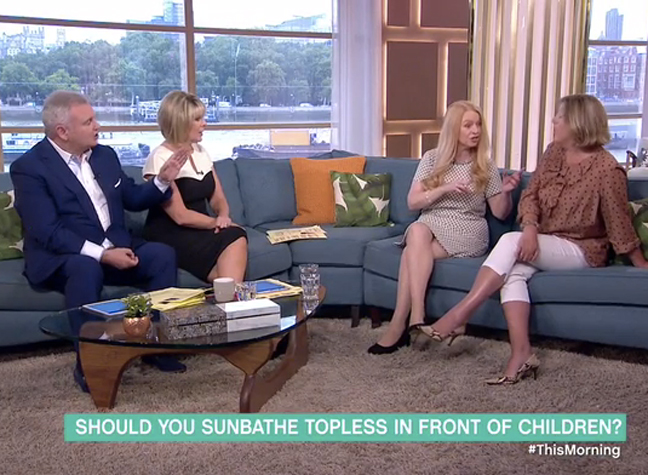 Turning to the 'This Morning' crew, Eamonn asked for a show of hands as to who would feel embarrassed if they saw a woman sunbathing topless on the beach. Much to Sonia's glee, none of the crew raised their hands, however Eamonn joked somewhat inappropriately that their answer was such because "They're all perverts."
Ruth and Eamonn are handing the responsibility of presenting 'This Morning' back over to Holly Willoughby and Philip Schofield next week. Holly & Phil return to our screens on Monday 4th September.
FROM: Our sister site, Woman & Home. Written by Rachael Martin