Let's face it – we all knew that Prince William was really the funny one in the royal family.
The future King doesn't get much credit really – with younger brother Harry regularly seen as the more light-hearted and jokey one of the two.
But there have definitely been a few occasions where the dad-of-two has let his humorous side come out – and we love him all the more for it.
For example, does anyone remember THIS moment?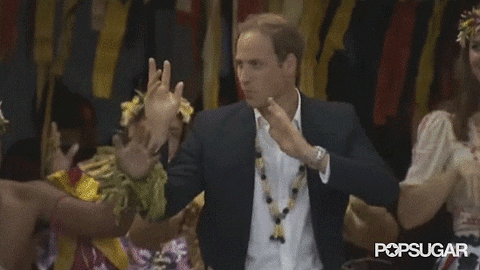 And he's definitely got a pretty playful relationship with little bro Hazza…
Plus, who can deny that he's one of the most (subtly) quick-witted members of the royal family?
But most recently, the Duke won over the hearts of the nation, after engaging in an hilarious display with the host of the Royal Variety Performance 2017, Miranda Hart.
He and wife Catherine attended the performance at the Royal Albert Hall on behalf of the entire family this year. And as is tradition, Miranda, as the host, was quick to poke fun at the royal attendees.
After a request from a child on stage, Prince William proved how good a sport he was, by galloping in the audience of the show. Yes, you read that right. Galloped.
The future King was urged by the young Annie cast member and Miranda, to mimic one of her signature moves, the gallop. It's a move she regularly performs on her comedy show, Miranda.

---
Read more…
---
And fair play to him, William promptly shot up and perfomed the hilarious move – albeit with a slightly rosy red face!
The Duchess of Cambridge was left in stitches over her husband's moves. And so, it seems, was the rest of the UK!
Viewers flocked to social media to praise the royal, with many saying how hilarious it was and how it had made their night.
Others praised the royal for being such a good sport…
Typically during the Royal Variety performance, the host and the royal attendees enjoy a joke and a laugh together. But rarely has one delighted audiences so much!
Keep those laughs coming William, we're all loving it…!