Peter Andre has revealed how the Royal Wedding has inspired his forthcoming wedding anniversary to wife Emily.
The Mysterious Girl singer is going to "throw a big anniversary party" for his and his 28-year-old wife's three-year anniversary on July 11, having watched Prince Harry and Meghan Markle tie the knot earlier this month.

Writing in his column for New! Magazine, he explained: "Prince Harry and Meghan Markle's wedding was a wedding with soul. It was definitely different, but good different.
"We watched the ceremony and I loved how at the start it was so British and then all of a sudden it was just pure American. There was no in between.
"The whole wedding fever got me thinking that Emily and I should throw a big anniversary party to celebrate our marriage."
Pete's plans come after it was revealed where Prince Harry and Meghan Markle are going on their romantic honeymoon – which may give Katie Price's ex some more ideas.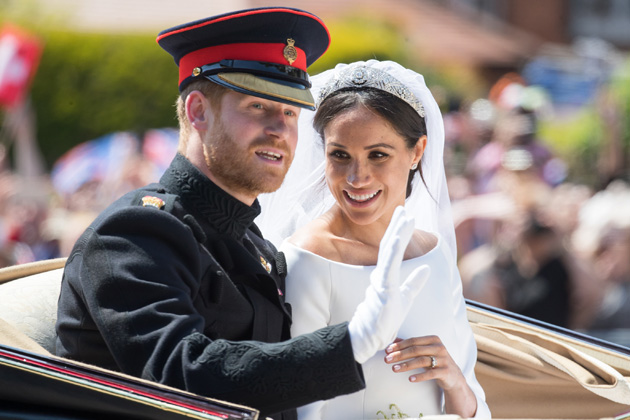 The newly-appointed Duke and Duchess of Sussex have picked the Fairmont Jasper Park Lodge in Alberta, Canada, according to TMZ, choosing the 6,000 sq. ft. Outlook Cabin.
The Outlook Cabin has been nicknamed The Royal Retreat due to the fact it is a favourite holiday destination for the royals.
King George VI and Queen Elizabeth first stayed there in 1939 whilst Harry's grandparents Queen Elizabeth II and Prince Philip holidayed at the cabin in 2005.
According to TMZ, the Canadian resort has ordered some 'gear and goodies it doesn't normally keep on hand' for the royal couple.

The website also reports that both British and Canadian security will be on hand to keep a close eye on the couple when they visit.
First opening in 1930, the cabin was destroyed by fire in 2000 and has been recreated from the original's exact floor plans.
The website of the lodge says, "Supreme comfort is present in every detail of the sumptuously comfortable bedrooms, enclosed verandas and majestic stone fireplace that warms both the dining room and great room – the perfect place to entertain family & friends or celebrate a special occasion."