Katya Jones' relationship with Neil Jones has come under fire after she was caught kissing Strictly Come Dancing partner Seann Walsh.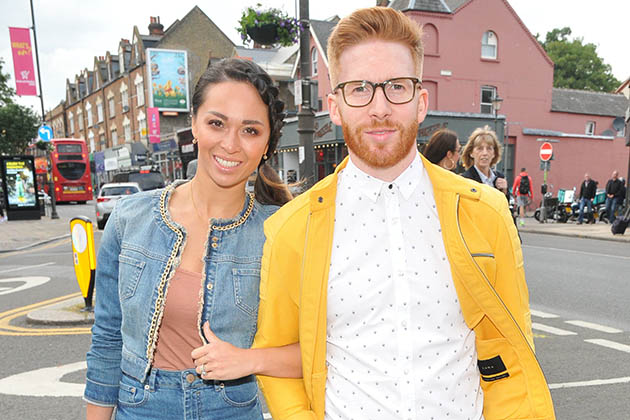 And now a pal close to the couple has claimed that Katya – who tied the knot with Neil in 2013 – treats him like a "dogsbody," hours after she played down the kiss and said their marriage is "fine" on It Takes Two.
The dancers have been caught up in a media storm since pictures emerged of Katya, 29, in a passionate clinch with her Strictly partner Seann, 32, earlier this week. But she confirmed during an appearance on It Takes Two on Wednesday night that their marriage is "fine," despite her infidelity.
In what was described as an "excruciating" and "awkward" interview on Twitter , Katya told Zoe Ball, "I can't apologise enough to everyone who it hurt and involved. But, the main thing, me and Neil are absolutely fine and that's what matters to me the most right now."
While Neil is said to be "putting on a brave face," a source has revealed that he's not coping well at all with the hype surrounding their marriage.
READ MORE: SEANN'S EX BRANDS HIM CONTROLLING IN PUBLIC STATEMENT
"He's put on a brave face but inside he will be dying over all of this," the insider said. "It's a very odd relationship. A lot of us feel quite sorry for him, but she's called the shots for so long there's no way he will break up with her."

Seann also took the opportunity to clear his name on It Takes Two, after his ex-girlfriend Rebecca Humphries claimed he was "controlling" during their relationship.
He said, "Obviously I'm sorry for the hurt that I've caused. We were getting on well, we were having fun. We had a couple of drinks and made a huge mistake and I regret it deeply.
"I'm not perfect, far from it. Our relationship wasn't perfect. That doesn't mean I wanted it to end the way it finally did, and I'm very sorry for that," the comedian added. "I feel it's also important for me to say that the people that know me the most, that love me, they know that I am not the person I'm being portrayed as. I'm still sorry for what I did, but it's very important for me to get that out there."