As her ex Jamie is snapped enjoying the single life, Louise Redknapp is still struggling to cope with the reality of her newfound independence.

She claimed that she felt like 
a 'Stepford Wife' who 'lost herself' during her marriage to Jamie Redknapp and shocked the showbiz world when they split in 2017. But while ex-footballer Jamie has been linked with several women and embraced his single status, a source says Louise, 44, is finding that her freedom has come at a cost.
Moving on
With his pin-up looks, it's no surprise Jamie, 45, hasn't been short of female admirers. While on holiday in Miami recently he was snapped enjoying the attention of several bikini-clad female pals. Some of the images were quickly picked up and pictures of him alongside Dutch model Sylvie Meis, who was there with her boyfriend Bart Willemsen, were splashed across the tabloids.
A source close to Louise says the pictures came as a bitter blow. 'Louise knows how hurt Jamie was when she ended the marriage, but she feels he's recovered fast. She did a double take at the Miami pics, and she hated seeing the photos. It hurt 
to see him moving on so easily.'
However, she sparked romance rumours herself after sharing a post of music manager Billy Clark, captioned, 'My main man'. But the source adds, 'Louise is adamant there's no man in her life and won't be until she's happy with herself.'

Lonely Louise
Louise previously said of her decision to separate from Jamie and focus on her career, 'People might look at me and think I've got everything, but a sweeping staircase and designer handbag doesn't really do it for me.' But our insider reveals that for the singer, who has two sons, Charley, 14 and Beau, 10, with Jamie, her freedom has come 
at a price. 'Louise thought 
she'd walk out the door on 
her marriage and her life 
would instantly turn magic again. But it's been a struggle and it can, like for anyone, 
be lonely for her.'
Feeling 'Cursed'
Her career has flourished post- Strictly but the former Eternal singer was heartbroken after a horror fall in London's West End forced her out of the hotly anticipated Dolly Parton musical 9 to 5. She suffered a fractured wrist and 10 stitches to her chin, and sources say the star is now feeling 'cursed'. 'This was a dream role for Louise – she felt it would be a career game-changer that would showcase her talent,' says our insider. 'She's trying hard to stay positive, knowing that her stage debut is just delayed but she sometimes feels cursed.'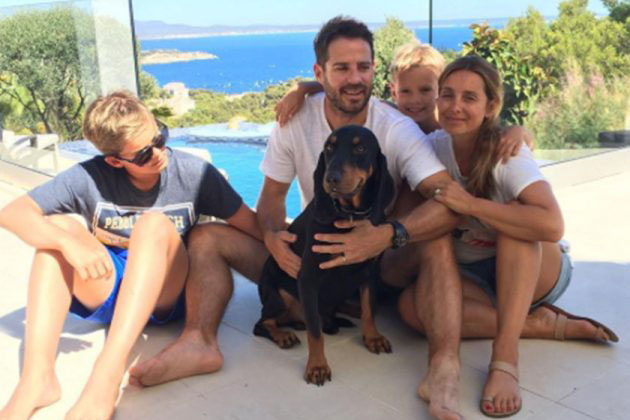 'Incompatible' but no regrets
Louise's former father-in-law, and I'm A Celebrity winner Harry Redknapp 
has revealed Jamie and Louise's break-up came as a 'big blow' to him and wife Sandra, adding, 'We love Louise.' However, he's also admitted in the past, 'I find it impossible to reconcile the sexy image I see on-screen with the Louise who comes to my home with Jamie for Sunday dinner.' Since then Harry has hinted the couple were 'not compatible'. He also fuelled speculation that he and his wife of 51 years felt the pair could have worked harder to stay together, saying, '[In our day] you got married and unless something was drastically wrong, you stayed married.'
But Louise has no regrets. While she may 
be still struggling to find fulfillment post-divorce 
and has been blindsided 
by pictures of her ex with other women, Louise insists, 'I look forward. 
I've never been a woman for regrets.' And our source agrees that despite the setbacks, the singer is certain the split was still for the best. 'It's been tough 
but Louise says she 
doesn't regret leaving 
the marriage.'