A picture of a Meghan Markle lookalike has gone viral on social media, and fans are convinced it's the Duchess of Sussex in disguise.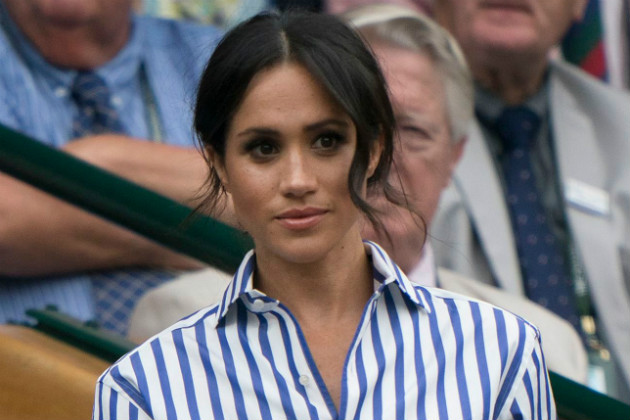 Meghan Markle has made no secret of her love of dogs in the past. And now a picture – which appears to show the princess waiting for her dog to do its business outside Kensington Palace – has gone viral on social media, leaving fans in awe of how "normal" she seems.
Although palace insiders have poured cold water over the rumours saying it's 'not her', fans of Meghan and Harry, 33, are utterly convinced it is the 37-year-old.
READ MORE: FANS SLATE MEGHAN'S 'UNAUTHENTIC' ACCENT
"It's definitely Meghan," one wrote. Another said, "Sure looks like Meghan to me!"
The former Suits actress was forced to leave her beloved rescue dog Bogart – a Labrador-Shepherd mix – in America when she made the move over to England, but rumour has it she's adopted a new one.
It's thought the couple got the puppy – thought to be a Labrador –  at the beginning of summer and they've spent time bonding with the new arrival at their country home in the Cotswolds.

If this picture is of the Duchess of Sussex, it's the second time in two weeks that the royals have given fans a glimpse into their private life.
It comes after Meghan accidentally let slip the nickname she uses for Harry when the pair attended a gala performance of Hamilton the musical in London.
"Can you see my love," she said before looking genuinely embarrassed to have said it out loud. Bless!

Despite the controversy surrounding Meghan's family – and her father, Thomas Markle, speaking to the press about his turbulent relationship with Meghan – the couple seem to be settling into married life well.
And, Meghan has been a big hit with Prince Harry's dad, Prince Charles – who walked her down the aisle at her wedding back in May.
"He's got a real soft spot for her and thinks she's the best thing to have happened to Harry," a royal insider revealed.
Haven't we all!