It's official – the romance of Meghan Markle and Prince Harry will be forever immortalised in a new Lifetime movie.
Aptly named 'Harry & Meghan: A Royal Romance,' the new film will tell the entire story of the pair's romance, spanning from their very first blind date in London, through to Harry's proposal at Nottingham Cottage, while the pair enjoyed Meghan's favourite dish – roast chicken.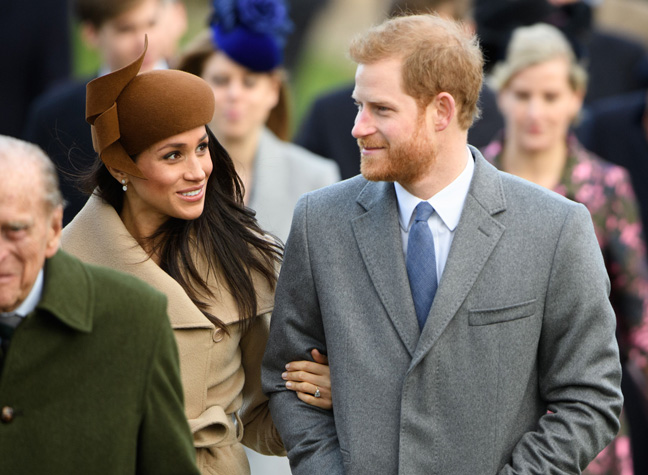 But there's one scene that's reportedly worrying the Royal Family immensely. "What I've heard is that they're seriously worried about the sex scene," director Menhaj Huda told Vanity Fair.
He knows this through "my wife's best friend has been dating the press secretary of the palace".
Producer Merideth Finn doesn't seem too phased by this. During a panel for the film she said, "Let them worry. People have sex."
Have you seen the Harry & Meghan movie trailer?
The ever-so-slightly cheesy, 30-second clip, begins with a frustrated Harry chatting to bro and sister-in-law Kate and William. The famous party-boy asks in exasparation, "What am I supposed to do, never have fun?"
And a rather sassy Catherine seems to suggest that it's time for Hazza to grow up. She replies, "Peter Pan can't stay in Neverland forever."
Then, of course, everything changes, and Harry meets Meghan. The clip shows the pair on their very first date, and their now famous holiday to Botswana.
The trailer also addresses Meghan's background, as an American and a divorcee – with Kate asking, "Are you ready for this?".
Bu rather heroically, the Prince seems to eschew any problems around their romance, as he proclaims, "She makes me happy, so to hell with tradition!" – aww…
Watch the clip here..
A release date has also been officially been announced for the movie – and it will premiere just before the royal nupitals. The film will be released on 13th May, just days before the actual wedding.
While the film will premiere on US network Lifetime, we'll also be able to catch it in the UK. It has recently been revealed that the film will be shown on Channel 5!
It's not yet clear when we'll be able to see it on UK screens, but it's likely to be close to the US premiere date.
New pictures have also been released, showing some ADORABLE shots of Harry and Meghan – with one of them enjoying dinner together with William and Kate.
The first is pretty reminiscent of the couple's sweet engagement shot – showing them in a close embrace.
While the next sees Meghan and Harry enjoying a double date with the Duke and Duchess.
How sweet!
Lifetime have also revealed the actor and actress that will play Prince George and Princess Charlotte in the movie – and they are so cute.
The network shared a picture of the entire Cambridge family – and they all look remarkably similar to their real-life counterparts – don't you think?
4-year-old George will be played by Preston Karwat, while Briella Wintraub will be taking on the role of Princess Charlotte.
So cute!
Playing the part of mum and dad, the Duke and Duchess of Cambridge, is Burgess Abernethy, who will play the Prince. Actress Laura Mitchell will be playing Catherine. And we have to say, all of them are certainly looking the part!
New pictures from the set also recently revealed that Princess Diana will feature in the movie.
Photos of the actress playing Harry's late mother were shared by Parisa Fitz-Henley, who is playing Meghan. While the post has now been deleted, it was revealed that Australian actress Bonnie Soper would be playing the role of Diana.
Bonnie herself also shared the news on her Instagram.
Fans couldn't believe actress Bonnie Soper's likeness to the late Princess, with one fan writing, "Whoa. She looks like she could be Diana's little sister."
While another agreed, "Woahhhhh creepy good."
As of yet, it's not clear which period in time Diana will appear in in the film. Meghan's father, Thomas Markle will also feature in the movie with a young Meghan. So perhaps the film will feature parts of the royal couple's childhoods?
Parisa has also shared now-deleted photos of the rest of the cast members, including ones of Murray Fraser, who is playing Harry.
Speaking about the upcoming movie, Lifetime have shared this description…
'Harry & Meghan chronicles the courtship and love story between a beloved prince and his new fiancée.

'The film will examine the history of Prince Harry and Meghan Markle from the moment they met after being set up by friends, through their initial courtship when they were able to keep their romance under wraps. And ultimately the intense global media attention surrounding their relationship and Meghan's life as a divorced American actress.'
---
Read more…
---
So it seems likely that the movie will touch on the scrutiny heaped on Meghan – for her race, family and her status as a divorcee.
We have to admit, we're pretty excited to see a romantic storytelling of the story of one of our favourite couples of the moment. But is it actually likely to be any good?
When William & Kate: The Movie, was unveiled, it was welcomed with some rather *ahem* harsh criticism.

Newspapers across the UK slammed the production for being 'cheesy' and 'awful', and it received generally negative reviews in press around the globe. Clichéd lines such as "You're the heir – I'm just the spare," from Prince Harry attracted attention for all the wrong reasons.
Some also critiqued the film for using American actors to portray members of the British royal family, and shooting many of the scenes in the US, despite it being a very British-based romance. And while the character of Kate was played by British actress Camilla Luddington, William was portrayed by New Zealand actor Nico Evers-Swindell.
At the moment, we don't have any details on the Meghan and Harry movie. And it's certainly not yet been announced who will play the engaged couple.
But one thing's for sure – it'll certainly attract a lot of attention when it's released!