Linda Robson is contemplating going under the knife following her weight loss as online trolls leave her plagued with insecurities…

She's been praised for shedding the pounds and looking the best she has in years, but Linda Robson 
still isn't content.
The Loose Women panellist's devotion to the gym and avoidance of wine has seen her lose a jaw-dropping 2st 7lb and go from 
a size 18 to a size 12. However that, combined with the fact that her skin isn't as youthful as it once was, has left her with excess saggy skin.
And now, a source close to Linda exclusively tells Woman that she's considering a little 'nip and tuck' to help remove the skin. According to our insider, the 60-year-old doesn't want anything 'radical' but is eager to get rid of 'unsightly saggy bits'. She's even confided in Loose Women co-star Lisa Riley, who also had plastic surgery to remove the excess skin she was left with after shedding 12st.
So what is behind the Birds of a Feather actress' drastic decision?

Getting cold feet
While Linda's decision to turn to surgery at the age of 60 may seem excessive to some, this isn't the first time the mum-of-three has considered going under the knife.
'Linda has been to see a surgeon before but got cold feet and changed her mind,' our insider explains. 'She couldn't think of anything worse than going in for an operation and coming out not recognising herself. She really doesn't want anything radical.'
Although the majority of feedback has been positive since unveiling her weight loss, Linda is plagued by the memory of trolls slating her 'crepe paper' skin and can't forget the comments about her 'vagina-like' neck or the fact she looks like a 'flaming shitsu'.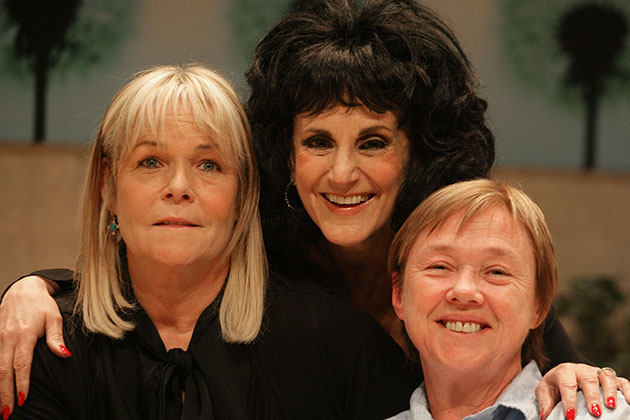 'Linda feels 21 but her body paints a different picture,' our insider explains. 'The comments from trolls have been really hurtful and understandably have left 
a lasting impression.'
Made a pact
Linda made a pact with herself and her family to lose weight after doctors warned she could be susceptible to diabetes 
if she didn't shed the pounds. So for the sake of her two grandchildren – Lila and Betsy – Linda retrained herself to eat healthier, ditch the bad habits, including alcohol, and turned her back on her sweet tooth.
'It wasn't easy for Linda to break her bad habits, in fact she joked that it was harder than giving up the fags,' our mole says. 'But going on I'm a Celebrity… changed her. 
She says that experience taught her the self-control she never knew 
she had.'
To ensure she's here to 
enjoy her 'golden days' with 
her family, Linda turned to gruelling boot camp sessions and long walks.
'Linda wants to live long enough to be healthy in her golden years and see her grandchildren grow up,' 
our source continues.
Although Linda is plagued with insecurities over her 'saggy skin', her husband of 28 years, Mark Dunford, has told her 
she doesn't need surgery.
'Mark says Linda is beautiful anyway and doesn't really like the idea of her going under the knife,' our source adds. 'But he will support her if it will make her feel more confident about herself.' With everyone concerned that her surgery plans are a little extreme, Linda has reassured her family and friends that she doesn't want anything drastic, simply a 'mini MOT'.
Nip and tuck
'Linda doesn't want a boob job, Brazilian bum lift or a face lift,' 
our insider reveals. She doesn't expect to look like a supermodel 
at 60 years old, she just wants 
a little nip and tuck.'
Whatever makes you happy, Linda, makes us happy!