It was recently revealed that her acid attacker had been granted parole and would be released from prison.
And following the news, Katie Piper – who is set to take part in this year's Strictly Come Dancing – has been given 'round the clock security' by BBC bosses.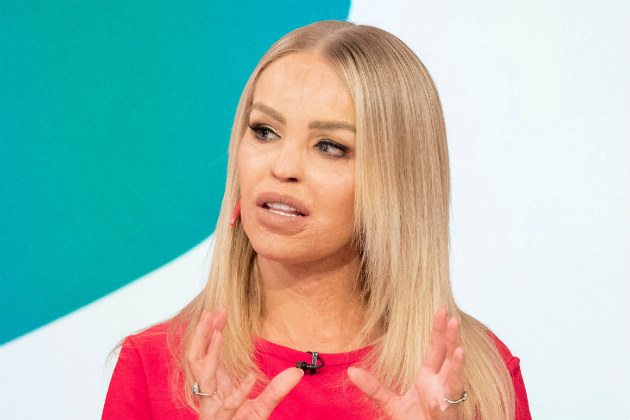 The mum-of-two – to Belle, four, and eight-month-old Penelope – is active in training and rehearsals for the dancing show and sources say bosses have taken action to ensure she feels safe at all times.
And yesterday, she was spotted being accompanied by a security guard while out with dance partner Gorka Marquez ahead of their next appearance on September 22.
A source told The Sun, "Strictly have discussed security with Katie and she has voiced her worries.
"They told her that they will do all they can to ensure she is safe at all times. She decided against attending the press day but is putting on a brave face for the show.
"Off-camera she keeps a very low profile. Now she is on Strictly it's going to be tougher, but part of the conditions of her being on the show was they understood this."
The extra protection comes after Parole Board officials ruled that Stefan Sylvestre – who was paid by Katie's ex-boyfriend Daniel Lynch to throw acid at her in 2008 – was no longer a danger to society, so would be freed imminently.
Despite Katie pleading with them to keep him locked up, it was concluded that Sylvestre, 30, be released after he "displayed empathy for the victim and expressed remorse and shame for his actions".
Sylvestre was jailed for six years in 2009 for the vicious attack that left Piper's face and body scarred.

A spokesman for the Parole Board said, "We can confirm that a panel of the Parole Board directed the release of Mr Stefan Sylvestre following an oral hearing.
"Parole Board decisions are solely focused on whether a prisoner would represent a significant risk to the public after release.
"The panel will have carefully looked at a whole range of evidence, including details of the original evidence and any evidence of behaviour change.
"We do that with great care and public safety is our number one priority."