Katie Piper might be over the moon to be doing Strictly Come Dancing but has admitted that it's going to be a huge challenge due to her health issues.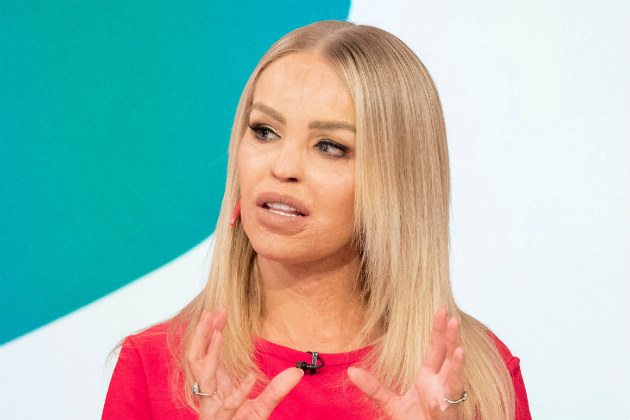 The 34-year-old still experiences difficult medical problems after being the victim of an acid attack in 2008, including restricted vision in her left eye and the tug of scar tissue which prevents her from fully moving her head.
She also struggles with breathing and these concerns could affect her Strictly experience.
"The respiratory problem makes training a bit harder," Katie told The Mirror. "I tried to practise some steps and can't really move my head back because of a band of scar tissue that starts at the top of my head.
"Everyone will be like, 'Why's she pulling that funny face?' and I'll be like, 'No, that's my face!'"

The star – who has daughters Belle, 4, and eight-month-old Penelope with husband Richard Sutton – added: "It will be hard with my eyesight. If you cover one eye and think you can't see your peripheral, that is harder with dancing, steps and anticipating your partner.
"I'm like an elephant with no rhythm. When I was practising I was stamping on feet and banging into people.
"I'll just have to work really hard at the training."
Katie isn't letting these issues stop her though after overcoming so much in the past.

"I remember when my challenge was to walk without a walking frame," the campaigner said.
It's not just Strictly that has posed a challenge for Katie either, with her day-to-day life as a mum also affected by her health problems.
"I always smash into the toys," she confessed. "I'll stub my toe about eight times a day, walk into the teepee tent and knock it flying. Everything's a little bit harder.
"But everyone has reasons things are harder, physically and mentally."
Katie was the first celebrity to be announced for this year's series of Strictly and will be joined on the dance floor by stars including newsreader Kate Silverton, This Morning's Dr Ranj Singh and Steps star Faye Tozer.
And even though Katie has some medical issues to overcome, she's admitted that there's actually another concern on her mind ahead of the show – her lack of natural rhythm.
"I can't even clap in time," the mum-of-two joked.
Good luck, Katie!