She's been open about the "difficult time" she's facing, after it emerged that the man who threw acid over her is to be released from prison.
And as she prepares to take part on this year's Strictly Come Dancing, Katie Piper took some much needed time out to 'de-stress' and 'clear' her head.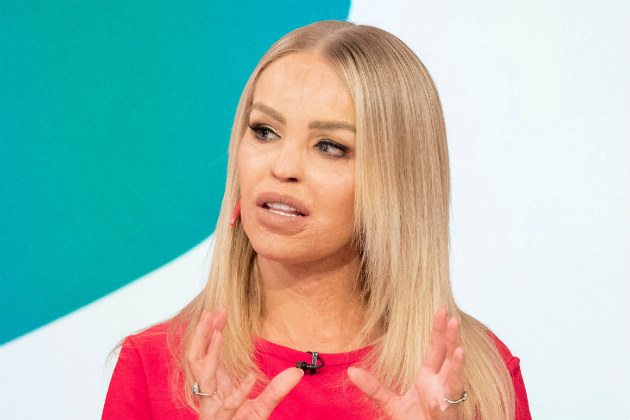 Sharing a photo, as she worked out alongside her personal trainer, the TV personality told her 730k followers, "There is no other de stress like it! Training, pushing my self and lifting weights always helps me to relax and clear my head!"
Katie appeared to have a little moral support nearby as well, as her eight-month-old daughter Penelope – whom she shares with her husband Richard Sutton – could be seen playing with her PT.
She added, "I know it's hard getting out the house when your a mum- little helping hand today from @louboucek_pt not just with the reps but also with Pea 👶🏾💪🏽💖"
Fans rushed to comment on the photo, as they praised the 34-year-old for being a 'great mum', juggling both fitness and motherhood, as well as her current stresses.
"That's so awesome you get to work out and little Pea knows Mommy's right there the best of both worlds," one said.
"Hang on in there, your doing a great job- hardest job in the world being a mum! X" another wrote.
"So cute and so proud xx" a third added.

The de-stressing workout comes after it was revealed Katie's attacker Stefan Sylvestre – who was paid by her obsessive boyfriend, Daniel Lynch, to throw corrosive acid over her in 2008 –  was being granted parole.
Stefan Sylvestre, now 30, from Shepherd's Bush, west London, was given a life sentence in 2009 for the attack.
He was told he must serve a minimum of six years for the attack, which left Katie permanently scarred, before he would be eligible for parole.
A spokeswoman for the Parole Board said, "We can confirm that a panel of the Parole Board directed the release of Mr Stefan Sylvestre following an oral hearing.
"Parole Board decisions are solely focused on whether a prisoner would represent a significant risk to the public after release.
"The panel will have carefully looked at a whole range of evidence, including details of the original evidence and any evidence of behaviour change. We do that with great care and public safety is our number one priority."
Opening up about the news, Katie released a statement on Twitter, as she told her fans  rehearsing for the BBC One dance show had been a "positive distraction."

She wrote, "I felt it was important to put a message out to my friends, supporters and followers.
"This is a really difficult time for me. I am trying to come to terms with the decision and this is something I need to deal with.
"Over the past two weeks Strictly has already given me such a welcome and positive distraction from my past.
"Whilst there is never a good time to hear this news, I am glad I have this new journey to concentrate on. Thank you for your continued support. Love Katie."
Aww, we wish you all the best Katie!