With Ant checked back into rehab and their marriage over, why can't Lisa Armstrong let go of her soon-to-be ex husband?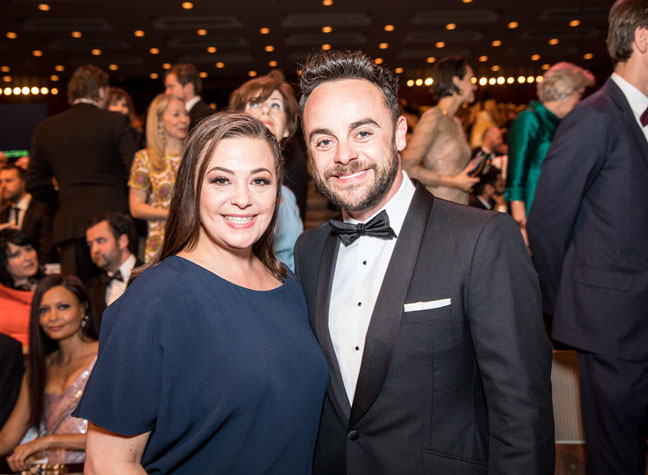 To say it's been a tough year for Ant McPartlin's estranged wife Lisa Armstrong would be an understatement. The make-up artist, who works on shows such as Britain's Got Talent and Strictly Come Dancing, has remained relatively under the radar since splitting from Ant in January. But now, with Ant's life spiralling out of control and another stint of rehab on the cards, it's emerged that Lisa 'went to hell and back' for two years prior to their split. So why can't she let go of their marriage?
STANDING BY HER MAN
While news of Ant's prescription drug and alcohol addiction came as a shock to the nation last year, his wife, Lisa, knew all too well what he was going through. After his troubles were thrust back in the limelight last month, a close friend of Lisa's claims she tried to save Ant, 42, before things got out of control.
'Lisa told me she's been through 
hell for the last two years,' the insider explains. 'She wasn't sure if her marriage would survive, but she stood by him 
to try and save him.' A tweet liked by Lisa, 41, shows that she feels Ant is in 'self-destruct' mode. The fan wrote: Feel bad for @lisaAmakeup must be so hard watching someone you care about self-destruct before your eyes and not be able to do anything about it… Big love and respect to you Lisa X.

'It has been so hard for her,' the friend adds. 'Ant has been in such a bad way that she often feared the situation would be untenable.'
STRUGGLING TO LET GO
Despite everything, Lisa, who refuses to remove her wedding ring, is struggling to come to terms with the fact their 11-year marriage is over.
A source close to Lisa exclusively told Woman, 'She isn't ready to take her ring off – in her eyes that would mean admitting her marriage is over for good – and she's just not there yet.'
In fact, Lisa has told close pals she thinks Ant will come running back to her and the pair will get back together. 'She thinks the fact he's now hit rock bottom will push him back to her 
and that he wasn't thinking straight when he filed for divorce. Lisa thinks that, deep down, he wants her back and once he's out of rehab, they can rekindle.'
A picture of her, Ant and their dog still sits on her Twitter page. 'Lisa really thinks she could have helped to save him…' the friend says. 'But those close to Ant insist their struggling marriage was only 
making his problems worse.'
The pair were together for 24 years before Ant called time on their marriage and, despite his demons, which caused 'mood swings and depression' after a botched knee op, she stood by him.
The insider adds, 'It was clear there were problems that were getting her down, but she didn't want to give up on Ant'.
While Ant was said to be 're-evaluating' their marriage once he returned home from rehab in 2017, Lisa was 'determined' to save it.
A tweet liked by her reiterates these feelings: You will come through the darkness and be brighter and stronger than you went in… You've done absolutely nothing wrong 
apart from be a loving wife.

Our insider says, 'Lisa can't help but cling to happy memories and 
the dream that somehow things could be different.'
FERTILITY WOES
To add to Lisa's heartache, Ant's best friend, Declan Donnelly announced two weeks ago that he and wife Ali Astall are expecting their first child. It's no secret that struggling to conceive caused friction in Ant and Lisa's marriage. In 2013 Ant admitted, 'We'd love to have kids. It's tougher than you think when you get a bit older.'
But Lisa showed her support for Ant's 
on-screen partner by 'liking' the tweet that revealed they were delighted to be expecting their first child, for which fans have labelled 
Lisa: dignified, gracious and brave.
Our source says, 'In spite of all he's put her though… Lisa still loves Ant and it'll be a long time before that changes.'
We're thinking of you, Lisa!