Eamonn Holmes heart must have skipped a beat last night when one of the Love Island contestants admitted they had a secret crush on him.

The 58-year-old TV presenter, who is married to his This Morning co-host Ruth Langsford, was revealed as the person who love Island's Laura Anderson has a crush on.
Eamonn was mentioned during the ITV2 show last night when Laura was discussing her celebrity crush in the villa.
She told her fellow islanders, "Oh, I really fancy Eamonn Holmes." She continued, "I just love him and Ruth and I think they're so cute together."
He took to Twitter to add, "I have to thank that lovely Laura girl from #loveisland for the nice things she said about me.
"Let's just not share them with @RuthieeL . I don't want to get my mugged offs and Cracking on's mixed up …but plenty to discuss on Tomorrow's @thismorning ."
And it wasn't long before the news got back to Eamonn, who decided to tell his 390,000 Instagram followers how if felt to be named.
He uploaded a snap of the conversation and captioned it, "I don't know what to say except why has this caused so much surprise ? 😃
@loveisland @loveislandreactions "
And his response kick-started more confessions from other admirers.
Take Me Out: The Gossip host Laura Jackson gushed, "We all fancy you! 🙂 she can get in the queue :)'
Saira Khan joked, "Eamonn I told you it's all about the personality" to which he corrected her and said, "well that's rubbish… it's obviously about the looks."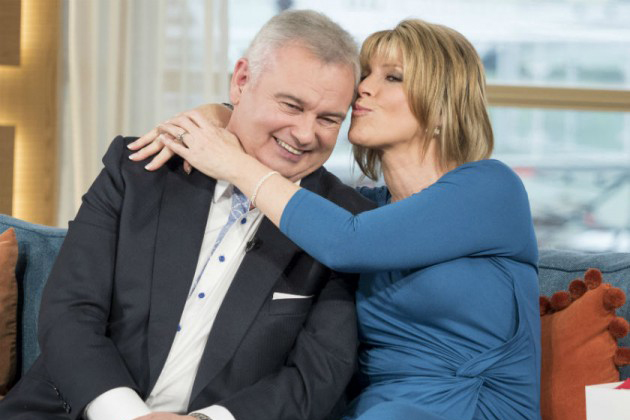 Fans are calling for Eamonn and Ruth to enter the villa to host one of the villa quizzes. One fan suggested, "@eamonnholmes and @ruthlangsford should go to the villa and host one of the quizzes on @loveislandwhat do you think @itv @itv2″ and another said, "Put @eamonnholmes in the villa!!! See Laura's face!' to which Eamonn agreed. He said, "Now there's an idea."
A third pointed out, "Won't that be a big awkward if you and Ruth interview her on this morning."