This Morning presenters Ruth and Eamonn discover gadget which could work wonders for them in the bedroom...
Fans are used to seeing Ruth and Eamonn Holmes sat on the This Morning sofa but they swapped their arm-chairs for something a bit more comfy when the jumped into bed to road-test a new gadget to boost their bedroom life.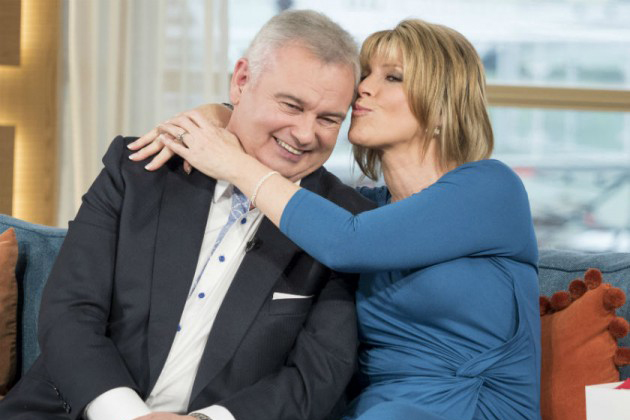 Ruth, 58, shared the discovery with her social media followers when she uploaded a video clip which showed her and husband Eamonn, 58, laying on a bed.
"Can you fold him right up like that?" Ruth asks the bed shop staff, to which Eamonn then replies: "What like a camp bed," which prompts the salesman to say: "That would be very unkind."

Eamonn cannot resist playing with the remote control on the electric bed – much to the annoyance of his wife.
Ruth points out: "Now you're moving mine – but I don't want to lie down yet." He gets the giggles and asks: "Isn't this the best fun you've ever had with your clothes on? Isn't it? Isn't it?"
Ruth laughs uncontrollably, before Eamon takes it a little too far, causing her to yelp: "STOP you're squashing me…. stop, get off, Ouch! seriously that hurts now."
But Eamonn looks like he's having too much fun playing and adds: "This could be wonderful for our bedroom life, this is so much fun, this is fun Fridays after this."
And after all the joking around, Eamonn cannot resist a rude comment, he tells Ruth: "Look what's happening to you now, look, you're starring down below. Look."
To which Ruth gives a witty response, with a sexual innuendo, saying: "I didn't feel a thing."
The bedroom antics are all part of a new TV series which looks at sleep patterns, being aired tomorrow night at 9pm on Channel 5.
Ruth captioned the clip: "Me and @EamonnHolmes have rarely had so much fun in bed!! Join us for more laughs and great insights into How to Get a Good Night's Sleep Wednesday 9.00pm @Channel5_tv"
Their antics made pal Lizzie Cundy write: "This is hilarious ! I must watch" meanwhile Nadia Sawalha wrote: "Need one !! Very funny ! Will be watching ! Am desperate for a good nights sleep !"