In what might be 2017's biggest royal news story, it has been officially announced that the Duchess of Cambridge, known by many as Kate Middleton, has a 3rd baby on the way.
Kensington Palace officially announced on Monday the 4th of September 2017 that the Duke and Duchess of Cambridge are expecting their third child. While this news may come as a surprise to many, it will not have been a shock to the bookies, who reportedly stopped taking bets on a third royal baby last month because they felt it so likely.
The news was made public in a very modern way on the Kensington Palace Twitter account. The tweet said: "The Duke and Duchess of Cambridge are very pleased to announce that The Duchess of Cambridge is expecting their third child."
Catherine was due to attend an event at the Hornsey Road Children's Centre in London shortly after the announcement was made, but sadly was forced to cancel as she was admitted to hospital earlier that same day.
Kensington Palace revealed that she is once again suffering Hyperemesis Gravidarum, a morning sickness condition, which she also experienced when pregnant with Prince George and Princess Charlotte.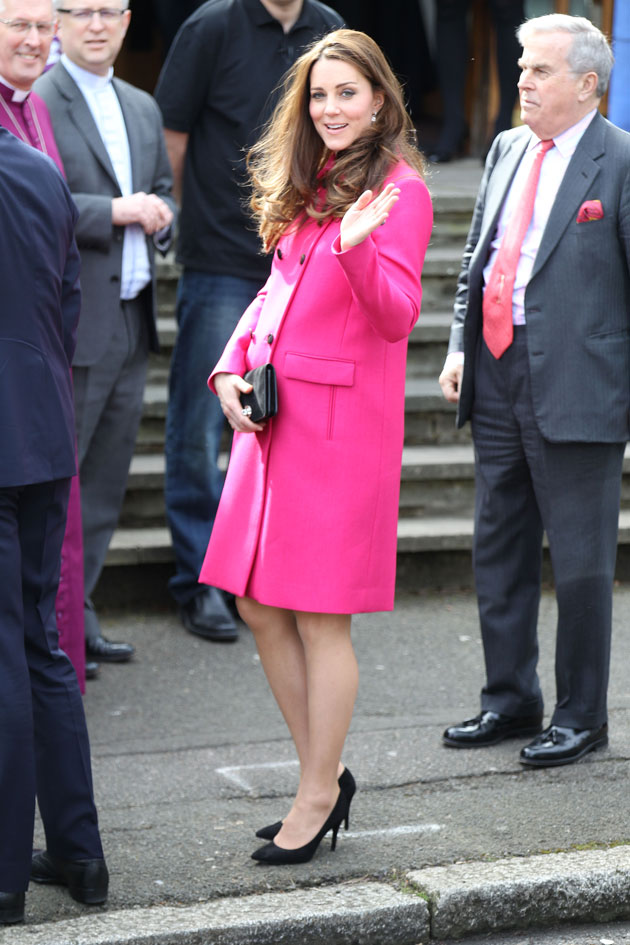 (Kate Middleton 3rd baby: The Duchess when pregnant with Princess Charlotte in April 2015)
The full statement from Kensington Palace read, "Their Royal Highnesses The Duke and Duchess of Cambridge are very pleased to announce that the Duchess of Cambridge is expecting their third child.
"The Queen and members of both families are delighted with the news.
"As with her previous two pregnancies, the Duchess of suffering from Hyperemesis Gravidarum. Her Royal Highness will no longer carry out her planned engagement at the Hornsey Road Children's Centre in London today. The Duchess is being cared for at Kensington Palace."
When is the third royal baby due?
Excitingly, Kensington Palace have now confirmed the due date of the third royal baby!
In an announcement on their Twitter page, it was revealed, "The Duke and Duchess of Cambridge are delighted to confirm they are expecting a baby in April 2018."
This means that Duchess is likely to be around two months into her third pregnancy. It also means that she could give birth to her third child just days before Princess Charlotte's third birthday on 2nd May.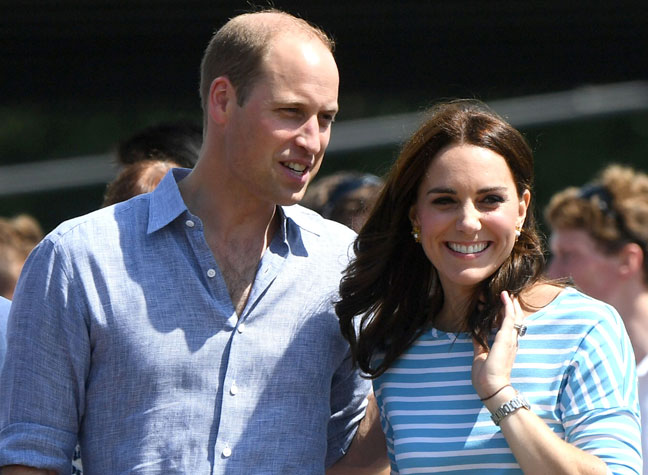 Previously, Prince William accidently hinted at when the baby may be born during a royal engagement.
At the National Mental Health and Policing conference in Oxford, William spoke about the recent happy news, saying "Thank you, it's very good news. There's not much sleep going on at the moment.
But he also let slip that, "It was a bit anxious to start with," but that they can "start celebrating this week". His comments suggested that Catherine had that week hit the 12-week mark of her pregnancy, the point when the first trimester ends and the risk of problems occuring decreases massively.
Back in July, the Duchess actually hinted at further royal pregnancies. When on an engagement in Poland with William, she was presented with a toy specifically for a newborn. And given that she had no newborn babies, she commented to William, "We'll just have to have more babies then!" She then gave her husband a cheeky smile – so might she have known then that they were expecting?
What might the royal baby's name be?
So what might the royal baby be called? As with any huge royal baby announcement, bookies have already begun taking bets on what they might name their third child. And the favourite? People are hedging their bets with Alice, the favourite at 7/1.
It would be an apt choice given royal family history, as it was the name of one of Queen Victoria's daughters, and also of the Duke of Edinburgh's mother.
Arthur for a boy and Victoria for a girl are the next popular choices, at 10/1, while Alexander and Alexandra are a close third at 12/1. If the baby is a boy, it could also be named after Uncle Harry, as the odds on his official name, Henry, stand at 10/1.

(The Duchess pictured most recently, on 16th October)
People have also already begun speculating if this will be the final addition to the Cambridge family too. Given that William is one of just two siblings, and Catherine is one of three, could a third baby be the perfect final child for the Duke and Duchess?
The Queen herself happily welcomed four children, although she was just one of two children born to George VI and Queen Elizabeth. And it seems that the Queen could well the the exception to the rule, as all of her children, Prince Andrew, Princess Anne, Prince Charles, and Prince Edward, have all had two children.
So could William and Catherine be following in the monarch's footsteps with a big family?
The happy news comes just as Kensington Palace announced that the Duke and Duchess are set to take on a busy autumn schedule, as they step up their duties in order to become "full-time royals".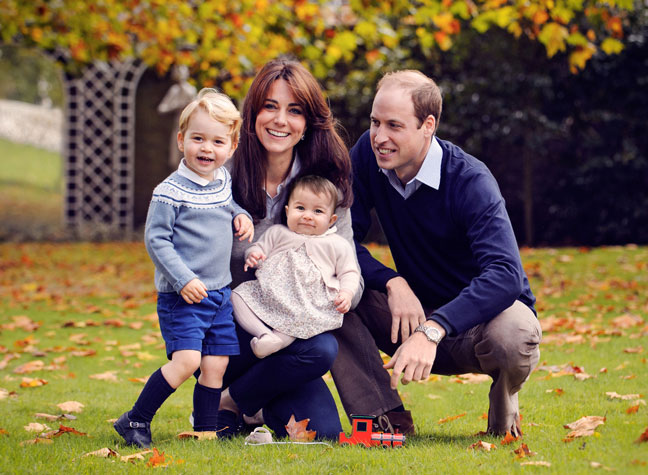 It's just been announced that the Duke and Duchess will undertake an official tour of Norway in early 2018 too, when the Duchess is likely to be around six months pregnant.
The family have also recently made the move back down to London in order to pick up more royal duties. So it really is set to be a busy time in the Cambridge household!
The news of a third baby for the Cambridges also means that current fifth-in-line to the throne Prince Harry will be pushed futher down the line of succession. The Duke and Duchess' third child will, when born, become the fifth in line to the crown instead.