He's fit and healthy and 
is currently enjoying a major comeback filling 
in for Piers Morgan on 
Good Morning Britain, but – behind the professional exterior – Richard Madeley is nursing his own secret worries.
Despite the 62-year-old being in tremendous shape, the TV star has opened up about his nagging worries over suffering from dementia in later life.
'The majority of people over 
the age of 60 fear dementia more than any other condition. I'm 62 (how did that happen?) and 
I'm certainly one of them,' admitted Richard.

Memory anxieties
While he rose to fame on This Morning alongside his wife Judy Finnigan 30 years ago, Richard still has a busy career both on TV and writing novels.But the presenter has admitted that he can't quite believe how fast his life has flown by, and the prospect of ageing is clearly a daunting one.
"Age sneaks up on us all like a thief in the night, stealing away our years without us even noticing until it's too late," he confessed.
"One morning we look in the mirror and ask, 'Where did it go? How long do I have left?'"
Richard is even on edge every time he forgets the smallest detail, and fears that it might be early signs of the illness developing.
"People of my generation are twitchy," he added. "We pounce on the slightest memory lapse or moment of forgetfulness and ask ourselves, 'Is this it? Is this the start of something major?'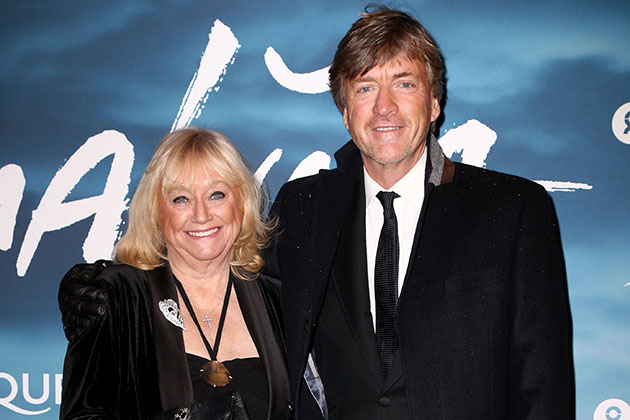 "Forgetting where we've put 
the car keys, how that Sunday-night drama series we slavishly watched last year actually ended or the name of someone we were introduced to for 
the first time 30 seconds ago; it's all clean gone."
Family worries
It's understandable why Richard might be concerned about dementia, since 
his mother Mary Claire sadly passed away from lung cancer in 2014, as she was also suffering from the illness.
Speaking about his late mother's deteriorating health, Richard admitted that he and his sister Elizabeth were very concerned about her increasing frailty.
"We both felt a faint sense of dread about the whole situation. She would go shopping and forget what she went for. At the same time, she'd also developed 
a persistent cough," he admitted.
During her battle with the illness, Richard admitted that his mother had started to forget her grandchildren, and during her final six months, she no 
longer knew who Richard was, either.
"Judy came with me to visit her and the children came sometimes, to begin with, but it soon became quite distressing for them as mum had completely forgotten who they were," revealed Richard.

Looking Ahead
While there's no cure for dementia yet, Richard has confessed that if he was to fall ill with the disease he'd be determined to tackle it with everything he's got.
"If it ever happens to me, I would want to meet it head on," he explained. "I would want to go down fighting."
And, while he might be in his early 60s, Richard tries to stay as fit and healthy as possible as he approaches later life.
Richard's fitness-fanatic daughter, Chloe Madeley, 31, confirms that her dad is always on the go. "Dad's always been quite naturally physically active, he'll go for walks, he'll bike ride, he hikes a lot in Cornwall," she confessed.
Chloe has also previously revealed that both her mum and dad have really got into eating sushi, and that Richard even keeps a close eye on his diet.
"My dad is fit and healthy, and watches what he eats," she explained.
Despite Richard's niggling fear that in the future he might suffer from dementia, it's clear that he still remains positive.
"Following my mother's death, I've learned a dementia diagnosis isn't an instant death sentence," he said.
"With the right choice of therapies and stimulation, it can be managed very successfully for a long time."