Eamonn Holmes and Ruth Langsford often squabble and divulge personal information live on This Morning, but now the married couple have opened up about their bickering and their sex life!
Ruth, 58, admits that, like any couple who have been together for 21 years, they have their fair share of rows, and it's usually about the smallest things.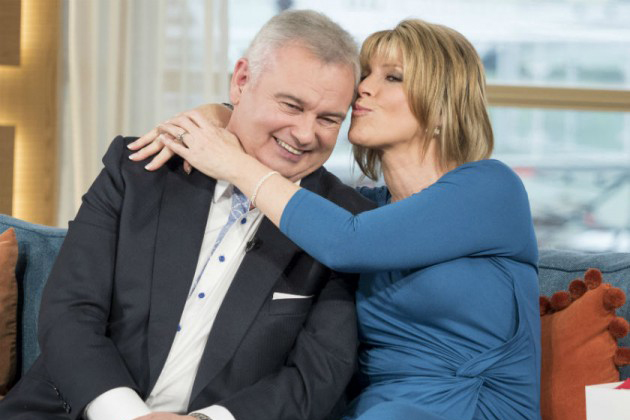 "All we argue about is what other couples argue about, like, 'I don't like that shirt on you, you look fat.' We argue a lot..," she said.
But, despite their rows, it's clear that they always make up, and Eamonn even went into details.
"Can I just say Ruth loves making up. That's all I'm going to say… I love Ruth deeply but also I fancy her. How could I resist?" Eamonn confessed.

And he previously 
joked, "No wonder I look tired all the time – that woman has me run ragged. I go to work for a break."
Err, maybe that's 
a little too much information, Eamonn!
It comes after Ruth shocked fans as she revealed her hidden talent on their new show Do The Right Thing.
The Loose Women presenter donned a silver wig and sang Status Quo's Rockin' All Over The World – joined by Ann Widdecombe in a bright orange wig.

She jumped and rocked out all over the stage, wowing the audience – which included her husband Eamonn Holmes.
He was seen enjoying his wife's performance, as he played air guitar in the crowd.
The song came during a segment which revealed there was a shortage of female rockers in Middlesbrough.

And viewers went wild for the performance, taking to Twitter to praise Ruth.
One exclaimed: "Ruthie Ruthie Ruthie, you go girl!"
Another added that she should stop hiding her talents!
They wrote: "Wow shouldn't be hiding a voice like that. Brilliant show."