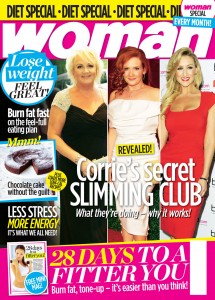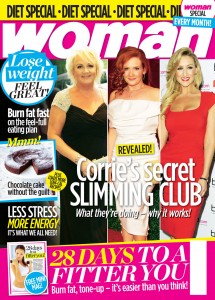 In this month's issue, the stars share their simple slimming rules, including Amanda Holden's top tips to give you body confidence and the Corrie stars secret slimming club revealed! What they're doing to stay slim and why it works.
Slim without starving with top recipes from Slimming World – you could lose up to 7lbs in 2 weeks! Plus low calorie treats for under a fiver and chocolate cake without the guilt.

Is your wardrobe in need of a makeover? We've got fashion essentials to suit and flatter every size and shape plus they're versatile so you can mix and match to make the trends work for you. Follow our guide for the most stylish prints- all from the high street and from £4.50.  When the seasons change, so does our skin, so we've tested the best of the best in skincare for you to try at home.

Plus, get a flatter tum in 28 days with our free mini mag, it's easier than you think and we reveal the latest trick to get a facelift without the surgery! All this and lots more, only in this month's Woman Diet special – out NOW!