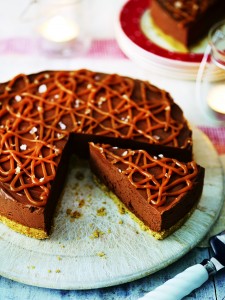 A wicked slice of chocolate heaven..Salted caramel and chocolate mousse cake – that's great to prepare ahead – made special with the sprinkling of sea salt to cut through the sweetness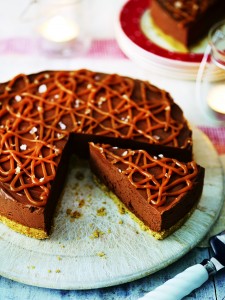 SERVES 12 – PREP 20 MINS – COOK 5 MINS
75g unsalted butter
200g oat crunch biscuits, crushed
397g can caramel
½ tsp sea salt
2 egg whites,
125g golden caster sugar
300ml double cream, whipped
1 tsp vanilla extract
300g dark chocolate, melted
1 Grease and line a 20cm spring-clip tin. Melt the butter in the microwave on High for 1 min. Mix together with the biscuits and press into the base of the tin.
2 Mix together the caramel with ¼ tsp of the sea salt. Spread two thirds of the mixture on top of the biscuits.
3 Whisk the eggs until stiffly peaking, gradually whisk in the eggs.
4 Fold in the cream, vanilla and dark chocolate until evenly mixed. Spoon over the caramel. Freeze for 2 hours to firm up.
5 Spoon or pipe over the caramel on top to decorate and chill for a few more hours, slice to serve.
Per serving: 517cals, 31g fat, (12g saturated), 56g carbs