Former Emmerdale actress Lisa Riley showed off her incredible weight loss on yesterday's episode of Loose Women.
The star has dropped an amazing 11 stone and is now a trim size 12! Appearing on the hit daytime talk show just five weeks after she underwent surgery to remove her excess skin, she beamed: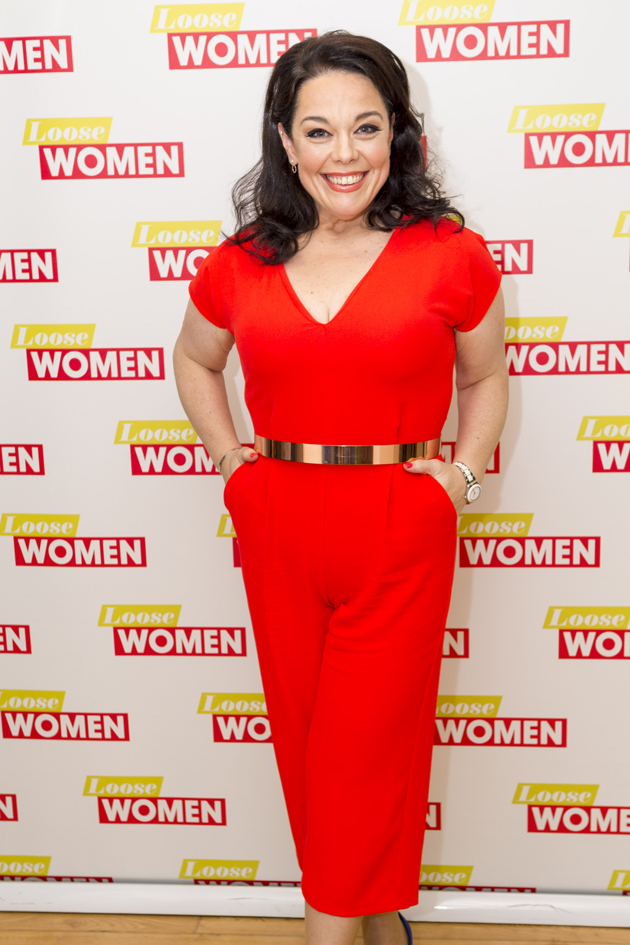 "I've had one stone, one pound in loose skin removed. I just keep stroking myself. I'm as firm as anything. I'm 12 and a bit stone now. I'm still getting used to it myself."
The 41-year-old also described that the "fear of going back" is constantly with her, and that portion control holds the key to keeping the weight off. She also made a cheeky confession, revealing that she 'constantly' walks around naked now her body confidence has received a boost. Go Lisa!
Lisa Riley – the most humiliating moment on her weight loss journey!
Lisa Riley has revealed the humiliating moment an airline company asked her to step on the scales to check her weight.
Sharing her story on a recent episode of Loose Women, the former Emmerdale star cringed as she described how all eyes were on her as she waited to board the aircraft.
"They were weighing us to see where we should go on the plane. I was the biggest person to get on the plane. I don't wanna be in that position again. It was embarrassing."
Lisa's plight sparked off a heated debate on the hit daytime show. While Stacey Solomon argued that airlines should do more to "educate the people" Jane Moore took a tougher stance:
"I don't think airlines need to normalise obesity," she said.
"They don't have a moral responsibility to do anything, they're running a business, they just need to get you to your destination safely."
Lisa proves the doubters wrong
Lisa Riley's amazing weight loss journey has been dogged by rumours that the actress has lied about the way she achieved her newly svelte frame.
And in an effort to prove that she made it on her own, the 40-year-old took a lie detector test…live on air!
Explaining the reasoning behind her decision, she said: "When I came on this show first time and the big weight loss was revealed… 93 per cent of people are supportive."
"Basically, what's happened is the other few percent are calling me a liar. One thing I'm not is a liar. What I've done is such a good achievement."
The former Emmerdale star put her story to the test during Thursday's appearance on Loose Women. The polygraph experts grilled her on the following four questions:
Since January has she:
Taken diet pills?
Had liposuction?
Had a gastric band?
Or bariatric surgery?
Unsurprisingly Lisa passed with flying colours, much to her relief:
"Amazing. Such a sense of relief. Once and for all I draw a line under this. I haven't lied and there is the proof."
But what's her secret?
Lisa has been steadily losing weight over the past few years, after her dad suffered a health scare and she was prompted to re-evaluate her own lifestyle. Lisa decided to take action and has now reached a new, lower weight of 8 stone – incredible!
To kick start her weight loss plan Lisa visited the Slimmeria retreat, run by diet guru Galia Grainger, and was only allowed to eat a tiny 400 calories a day!
Exercising for 4 hours every day, Lisa was up at 7.15pm and in bed by 9pm. Gruelling! Luckily this was only a temporary plan to start getting Lisa into shape.
After losing a stone in just 1 week, Lisa has been steadily keeping up the weight loss by eating a healthy, low-carb diet and doing regular exercise.
"I only eat a carb if I need one and absolutely no bread or booze," she revealed. " I've been going to zumba classes which is fun. I find the gym is boring.  "
We caught up with Lisa back in February to grill her on her healthy eating plan…
'Oh my god, I've actually got a waist!' Lisa Riley laughed as she posed in our exclusive photo shoot for Woman magazine. We couldn't believe how amazing the actress, 39, looked as she showed off her fabulous new figure
Lisa began her weight‐loss regime last year following a health scare that affected her dad, Terry. Since she overhauled her diet and fitness, the weight is still falling off Lisa, and she looks (and feels) better than ever!
Her weight loss secret? "It's about changing my lifestyle," she revealed. "I won't put the weight back on now because I just don't see food in the same way." Here, Lisa tells us exactly how she dropped the pounds…
"I do 35 minutes of cardio daily in the gym to burn fat. My average session is 10 minutes running on an incline on the treadmill, five mins on the cross‐trainer and 20 mins of free weights, lifting dumb‐bells while doing squats and lunges. Some days I do high‐intensity training, such as:
100 star jumps, followed by a three‐minute rest
One min of twist crunches, then 30‐second rest‐ do x three reps
One minute in a plank position
Using a yoga ball behind my back, I move up and down a wall to get my heart rate up
As well as her careful exercise plan above, Lisa also makes sure she does a 40 minute yoga class up to three minutes a week. And she also enjoys the occasional Zumba DVD at home! Lisa's weight loss secret has as much to do with what she eats now as how she exercises, so get inspired to kick start your diet with her meal plan below:
Lisa Riley Read more…
This is surprisingly simple
Monday
Breakfast – Bowl of Alpen muesli with skimmed milk and topped with two sliced bananas, plus a coffee with skimmed milk.
Lunch – Salmon, walnut and beetroot salad made with rocket and lettuce and Parmesan shavings.
Dinner – A fruit smoothie